Hi guys, it's good to be back. I guess it's not quite a surprise that the best place for me to write my posts are on a plane. Yup! It seems to be one of the few places where I can enjoy the much-needed solitude required to write from my heart. I remember the very first article I wrote (the one on Japan that got published on Bella Naija) was also written on my phone's notepad on the flight from Tokyo to Paris. My annual thanksgiving letters also happen to be written on flights. This time around, I am jamming to Ycee's 'too much juice, too much sauce' track and hoping it will 'ginger' me to spill all the juice from Uganda in this post.
It is quite interesting that I wrote about 'frolleagues' (colleagues that become friends) in my last post, and then the wedding I flew to Uganda to attend happened to be that of a frolleague. I think my next post will be about money so that, you know, maybe 30 billion can fall on me 🙂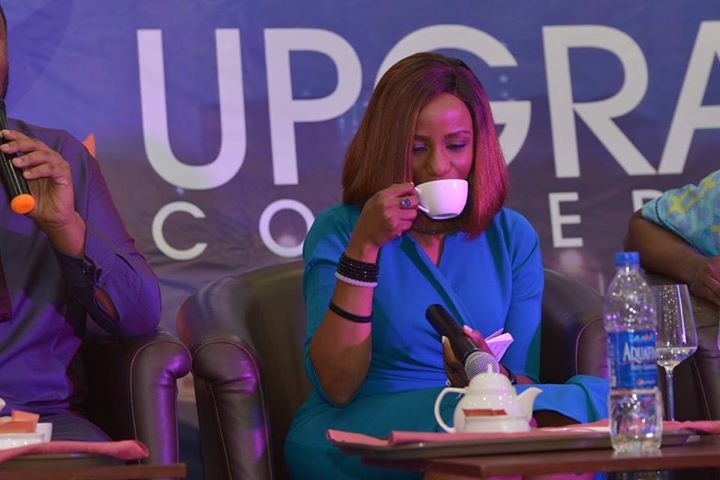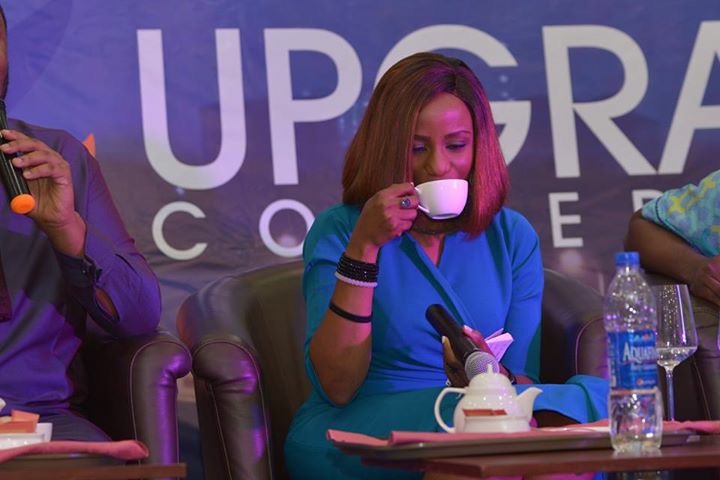 So I spent 3 days in Uganda a few weeks back and although it wasn't my usual touristy trip, it was such a beautiful weekend celebrating love Kingdom-style. Before attending this wedding, I did not quite have a clear idea of what I wanted my wedding day to look like. Not sure I have said this here before but I have never really had daydreams about my wedding – what my dress would look like, what my ring would look like, what the colors of the day would be, etc. Never. After this wedding though, the picture is getting clearer – Halleluyah!!!
I flew in on Friday morning on yet another red-eye flight that left at 3am!!! I know I said I wasn't going to take such crazy flights anymore but that was my only option to ensure I got to Kampala in time for the traditional wedding. After all the wahala, my connecting flight from Kigali to Entebbe was delayed so I got into town a bit later than planned.
p.s there is no airport in Kampala, so I had to fly into Entebbe and do a road trip to Kampala. That road trip is a story for another day. The short version of the story is that it felt like I was driving from Lagos to Osun State 🙂  #dazall.
Anyway, by the time I landed, my hair was a HOT mess! I think the air on that Rwandair flight was different because even though I know airplanes don't work well with my weaves, I looked like a proper village girl by the time I landed. The 'bob' of my weave had become 'flick out' and it wasn't looking funky at all. So in my usual style, I was chatting up the driver and casually told him about how I needed to get to the salon at the resort to get my hair touched up  before heading to the traditional wedding and then he casually says to me 'oh sister, there is no salon at the resort'. See gobe! (Davido's spirit has really fallen on me o, lol). I panicked for like 5 mins and after asking the poor guy like 5 times 'how can this resort not have a salon?' I realized his answer wouldn't make a difference, lol. So I quickly switched to problem-solving mode and told him to stop at any mall/shopping center on our way to the resort. Thankfully, we found one and my hair was restored to its original pre-flight glory. Now I was finally ready to take on Uganda, hahaha.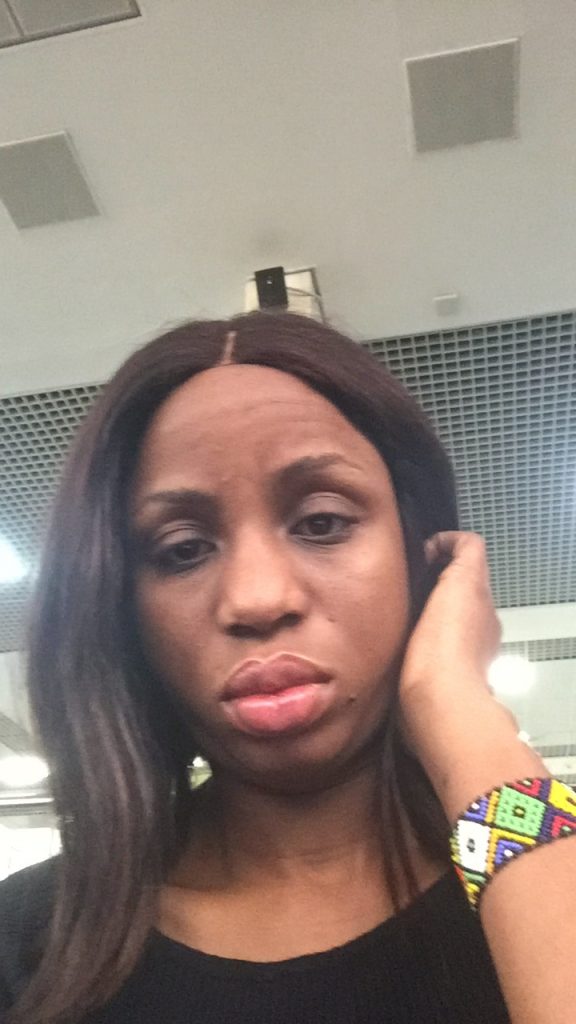 Moral of the lesson: Don't be a snob. Talk to your driver- he/she has more information than you do, and trust me, you need all the information you can get as a JJC in a new city/country.
We got to the beautiful resort after a loooooong drive that was made longer because of traffic. I think that heavy traffic spirit is an East African thing. If I thought I had seen the worst in Kenya, Uganda taught me a fresh lesson. I got to the resort, showered, changed quickly to a basic white dress, put on some red lipstick (red lipstick makes everything look fancy sha!) and got on the road for another 2.5 hours to get to location of the traditional wedding. I had gotten a traditional outfit made and was planning to change at the venue, but by the time I got there, it was so late and the lady with my outfit said there was no point changing anymore. Chai, the thing pained me o, so I made sure I still wore the dress the next morning and took some pictures before actually dressing up for the white wedding ceremony. Desperate times, lol. It was such a beautiful outfit and I was quite bummed that I didn't get to rock it for the traditional wedding. I am hoping I get another opportunity to wear it soon. Costume party, anyone? East African themed party, anyone? International outfits themed party, anyone? Please invite me o – I already have my outfit ready, hahaha.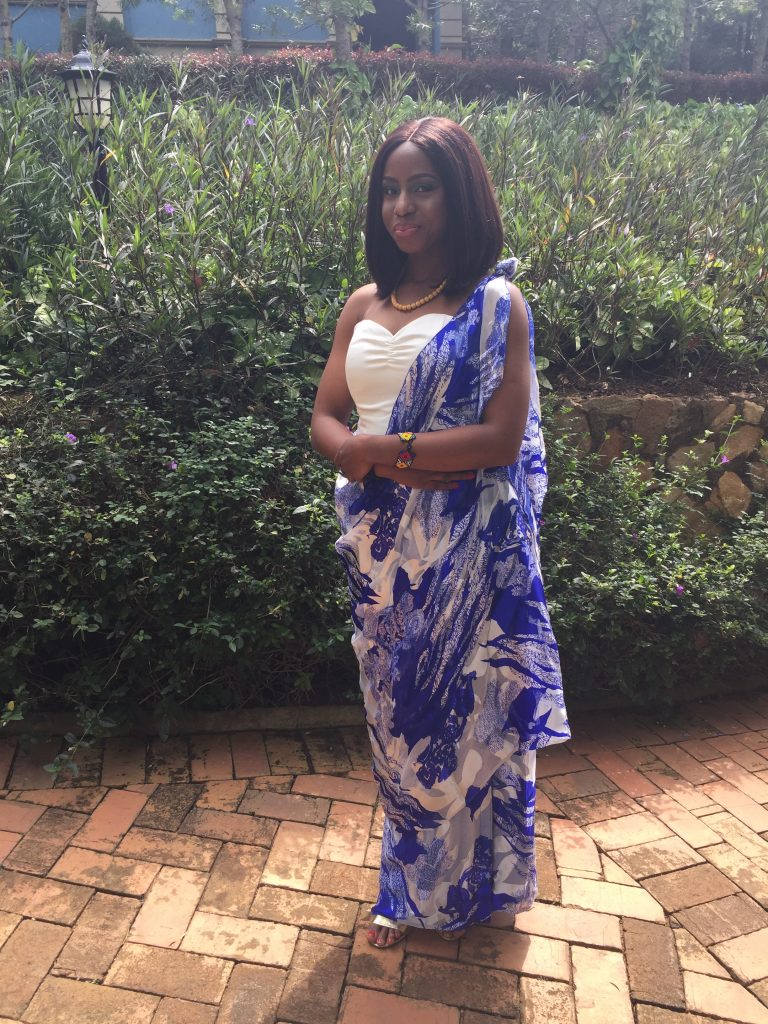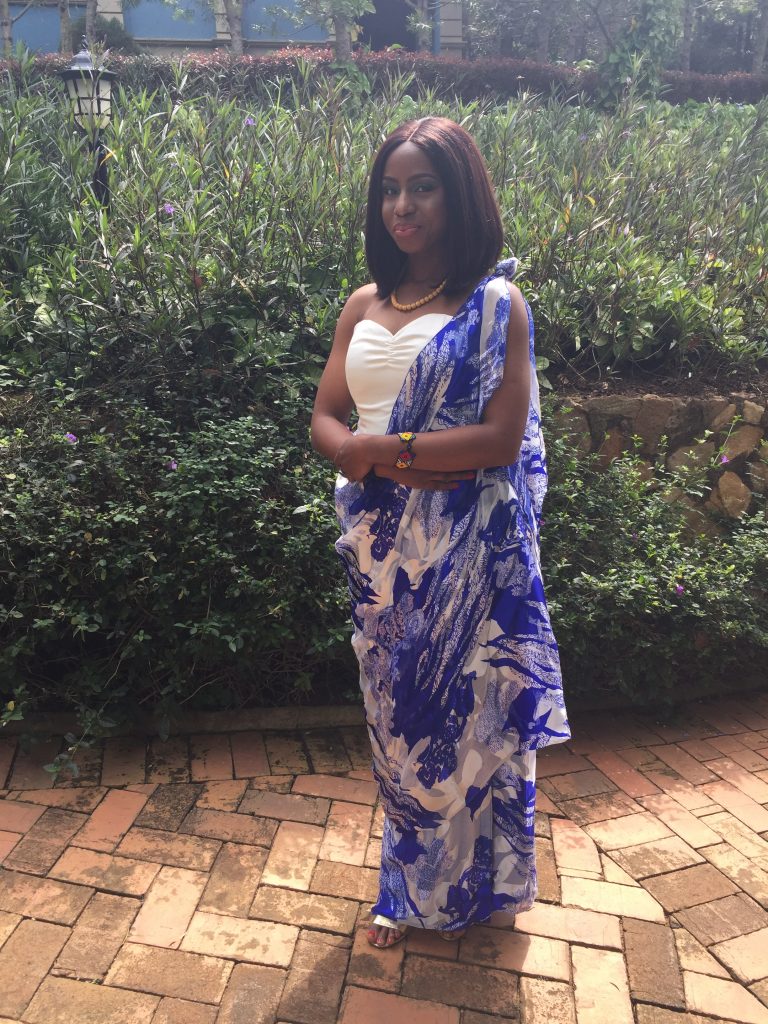 Anyway, since I got to the event quite late, I only managed to catch the end of the ceremony. Ugandan culture is VERY different from Nigerian culture and it was just beautiful to witness the traditional ceremony.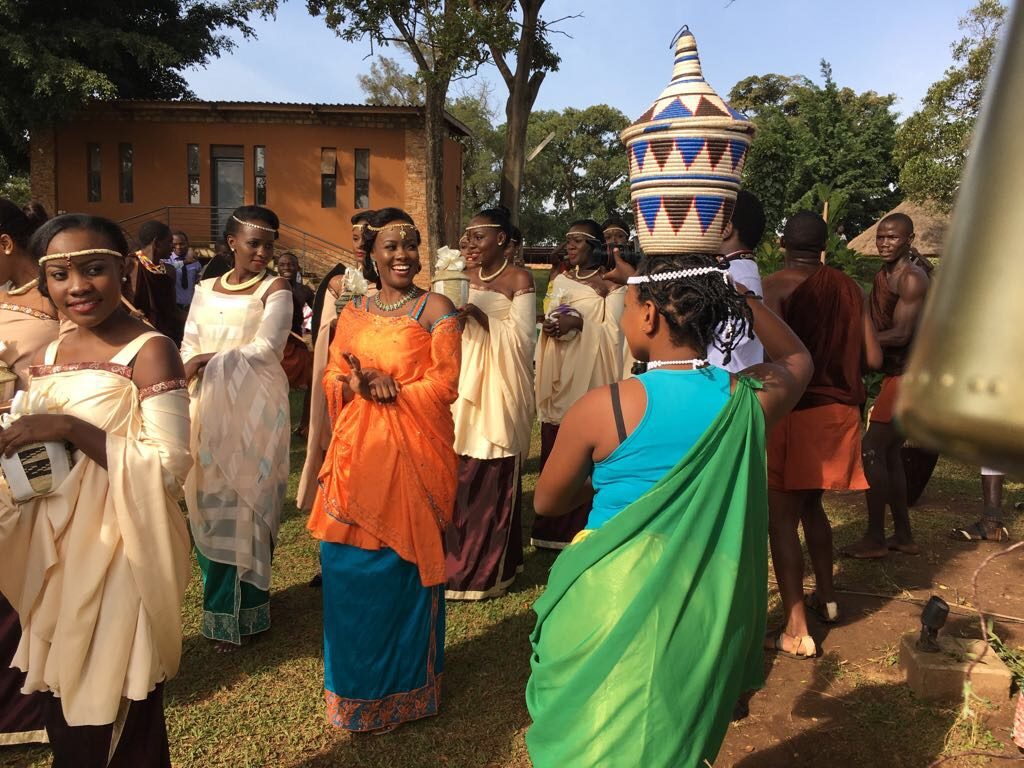 First, there's less partying and more talking. We Lagosians (the groom was Nigerian) were itching to dance and jolly but they didn't send us o, lol. All the key members of the bride's family were given a chance to speak. I wasn't there but I heard her father's speech about her was very moving. He talked about her core values and how she's principled and smart and how her faith in God is her source and firm foundation. I am not sure I've heard any Nigerian parent speak about their children in public in such glowing terms. At least, not at any weddings. The DJ and the MC/comedian/alaga won't even let the microphone get to mummy or daddy in the first place, pheew! The closest you can get is when you repeat after the Alaga "my bumbum, my bumbum", Oh that's one particular Alaga, okay I move on 🙂
The bride's aunties took the microphone, gave the bride gifts and talked about the significance of each gift. The uncles too said their own. There were Ugandan traditional dances every now and then but it was mainly speeches and prayers.
The bride's parents prayed and prophesied over them. I remember her Dad prophesying leadership, service and greatness on them, not the usual wealth and prosperity. Think about that for a moment – leadership, service and greatness. What a legacy to pass on to your children. *Selah*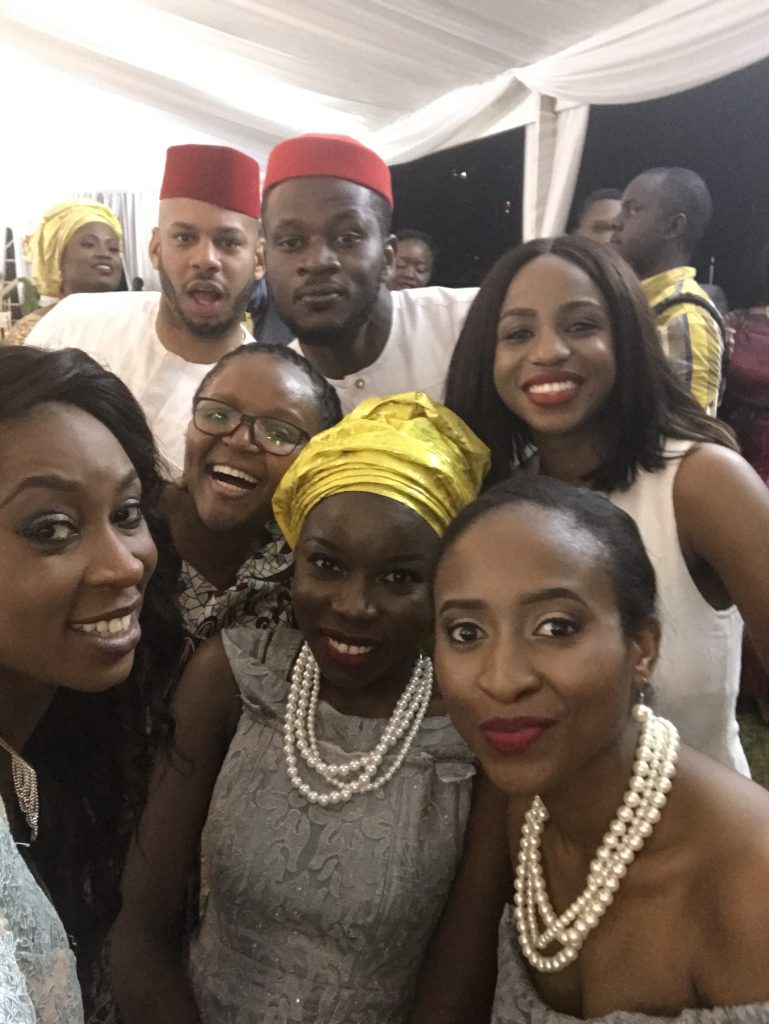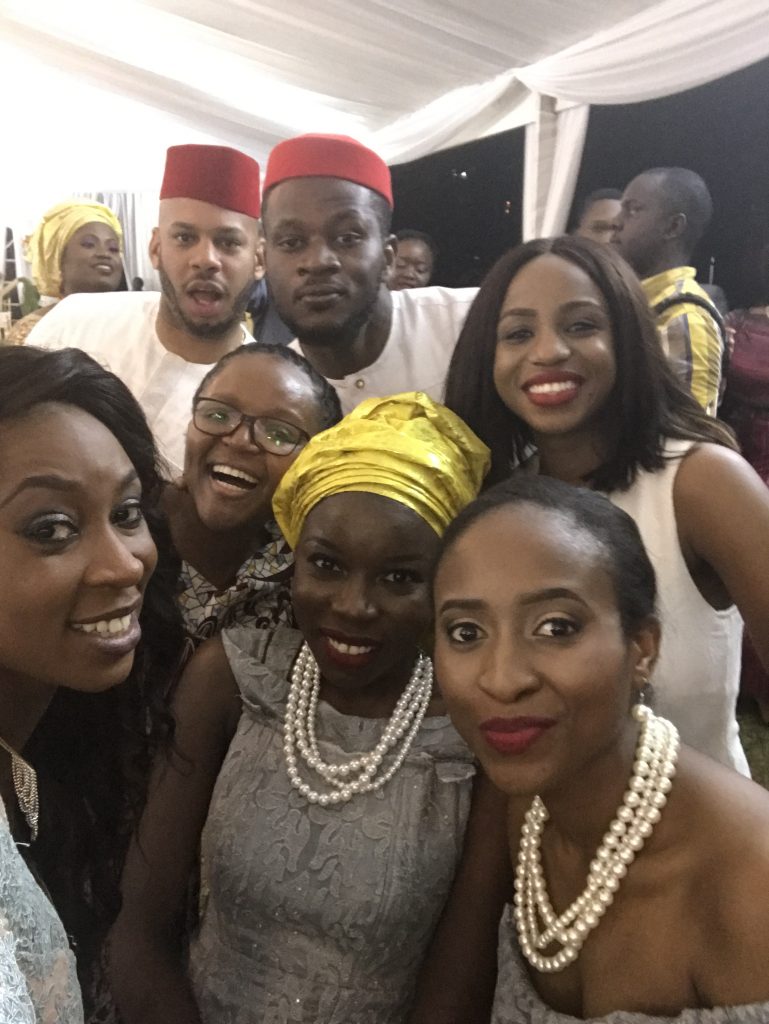 Oh by the way, the bride and groom did not sit together throughout the ceremony. She sat center stage with her maidens, the groom and his boys sat somewhere at the back, while his parents sat in front. Apparently, in Ugandan culture, it is the groom's father that they marry the girl to. The bride's dad however said they were balancing culture and faith and giving the bride to the groom (because they are to cleave to one another and become one) but under the guidance of his parents.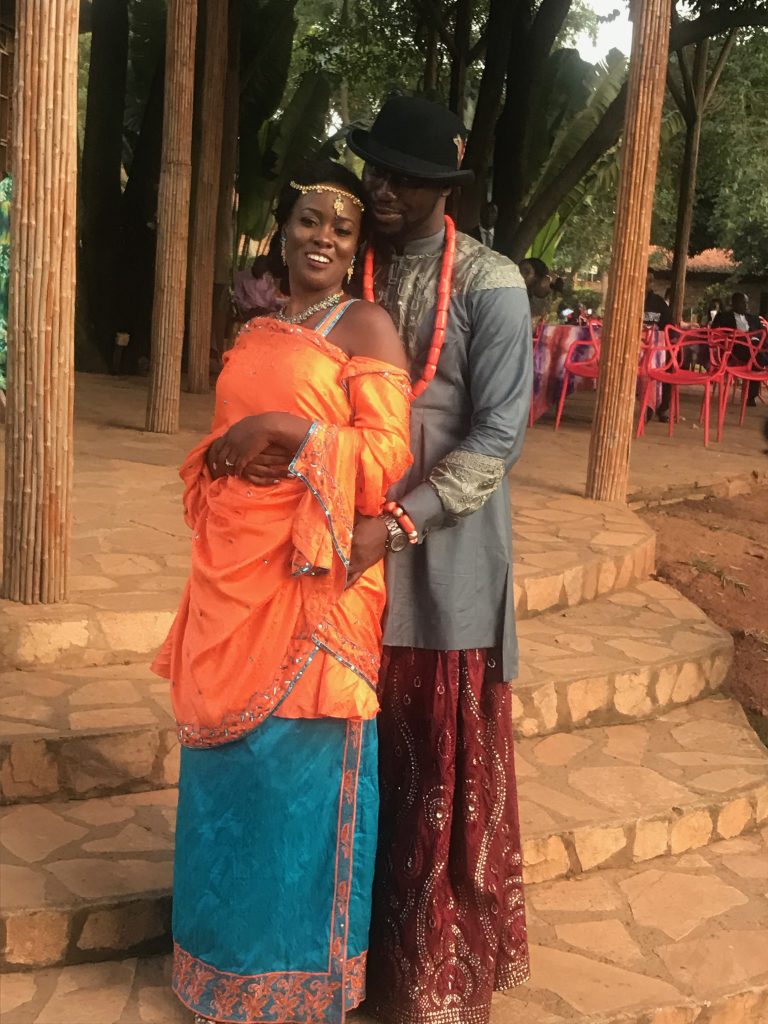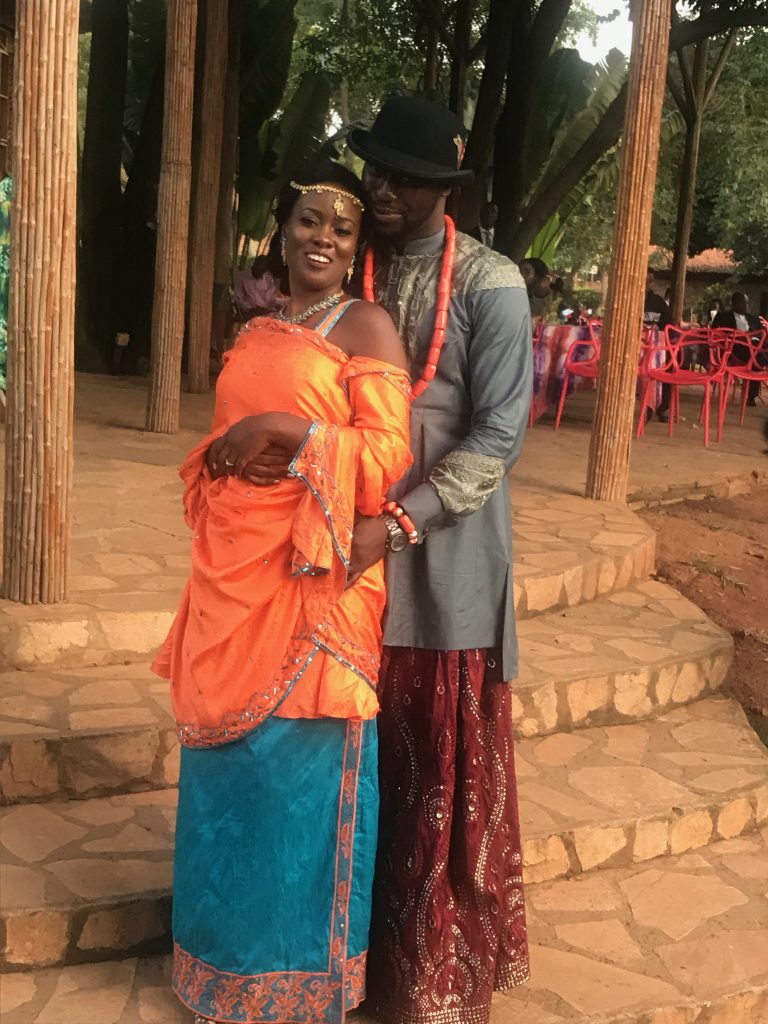 After the bride changed to her Nigerian outfit and her and the groom danced in, there was a whole gift exchange session. Her sisters –in-law welcomed her to the family by giving gifts to her and her family members and then, she then handed out gifts individually to all her in-laws. Her parents-in-law, brothers and sisters-in-law, her in-law's in-laws and all the families/older folks who came with groom's people. She gave them gifts one after the other. This is very different from the Yoruba culture where they put all the gifts/food stuff together and leave it to the bride's family to share at the end of the traditional ceremony. It was nice to see the bride slightly curtsying for her in-laws even though they don't kneel for elders in Uganda. The cultural infusion was just beautiful.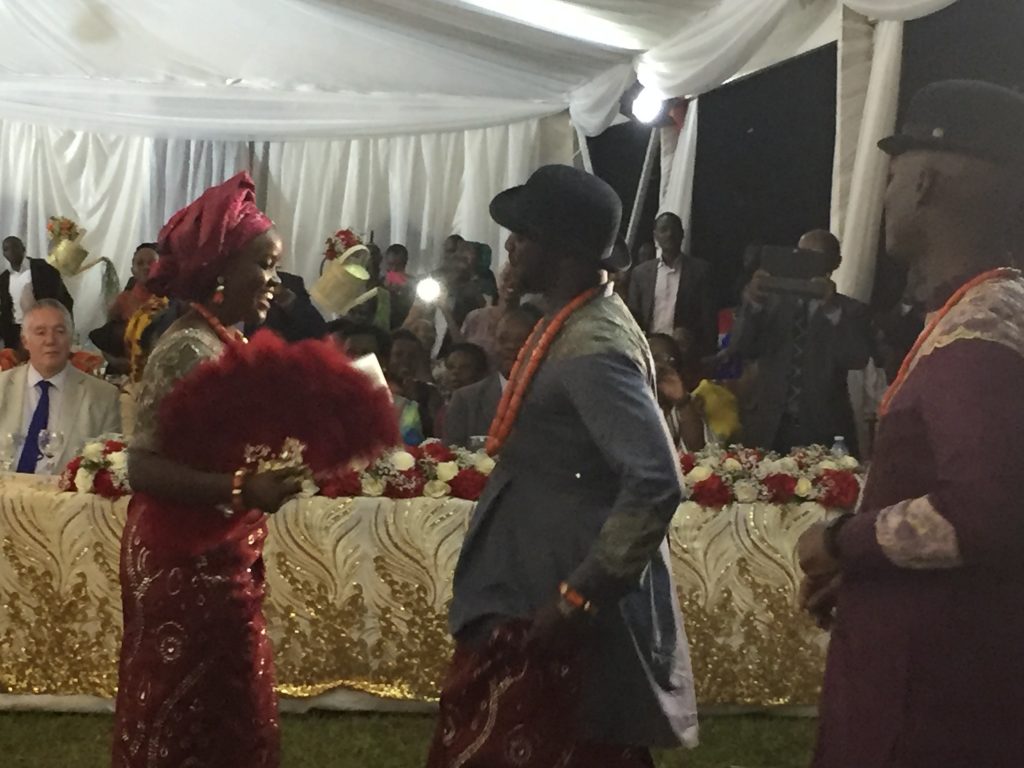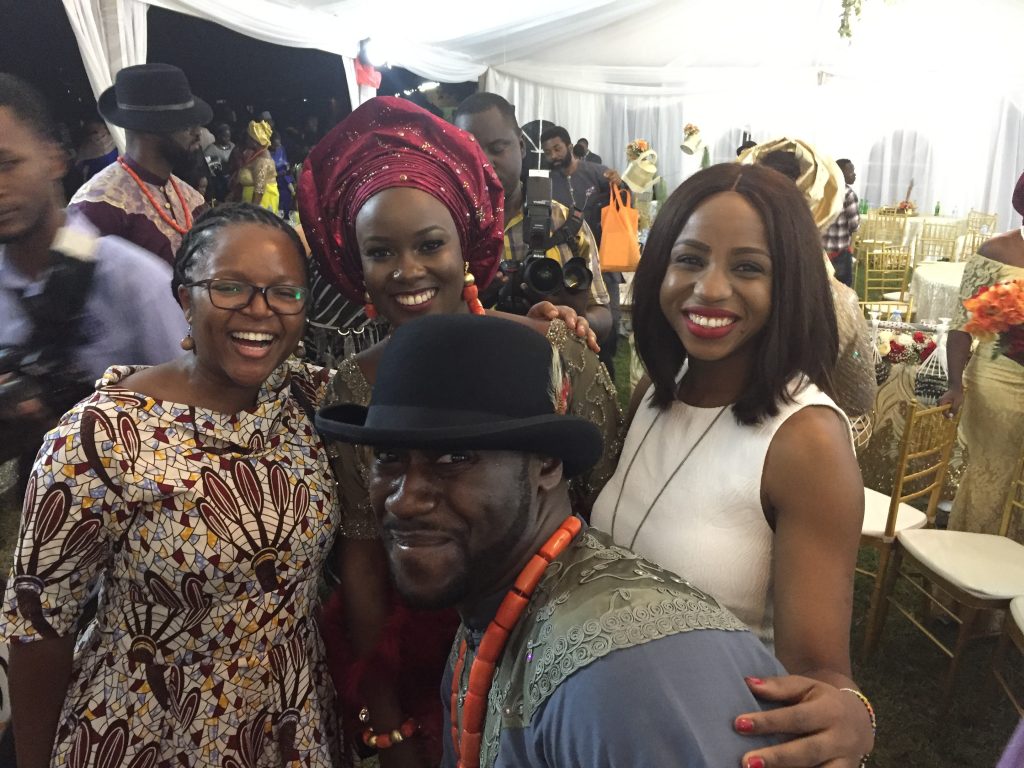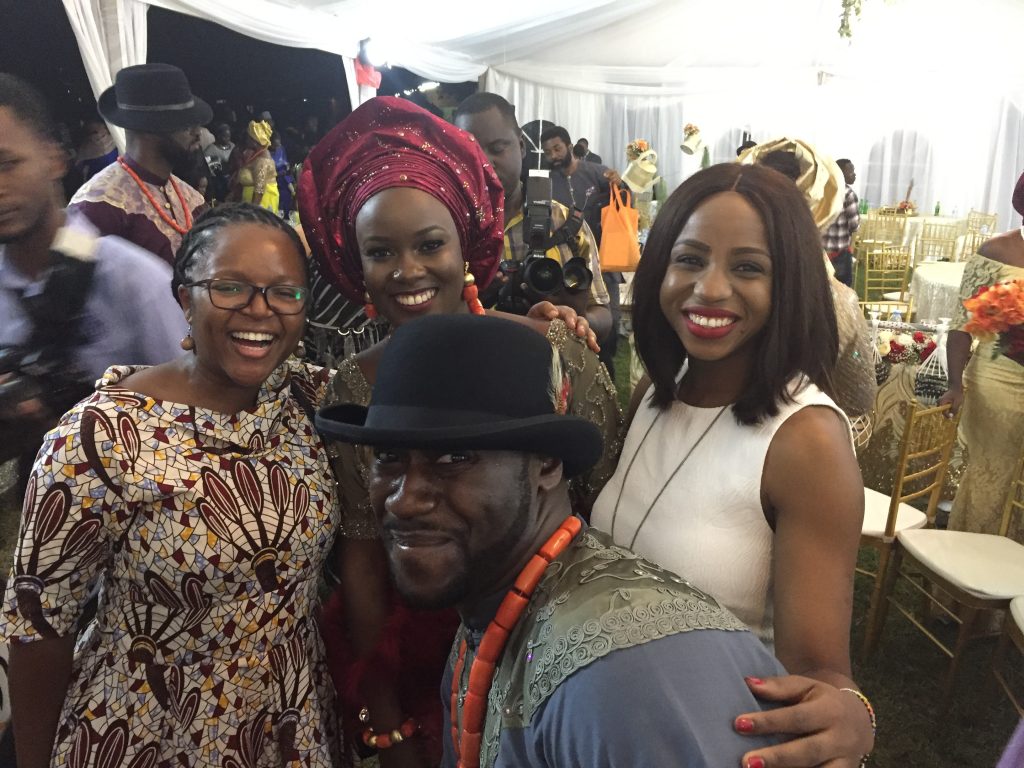 I was completely exhausted from the travel and went straight to sleep after another long drive back to the resort. All our plans of having a chill evening catching up and blah blah flew out of the window. I really needed my beauty sleep because the next day was going to be another marathon.
The white wedding was beautiful beyond words. It was not too different from how it's done in Lagos except that 2 of the couple's siblings got to read 2 passages of Scripture and we sang lots of hymns. When they were taking their vows, instead of just responding by saying 'I do', the bride said 'of course I do. I definitely will'. Her excitement about her husband was just unbelievable and beautiful. *holds heart*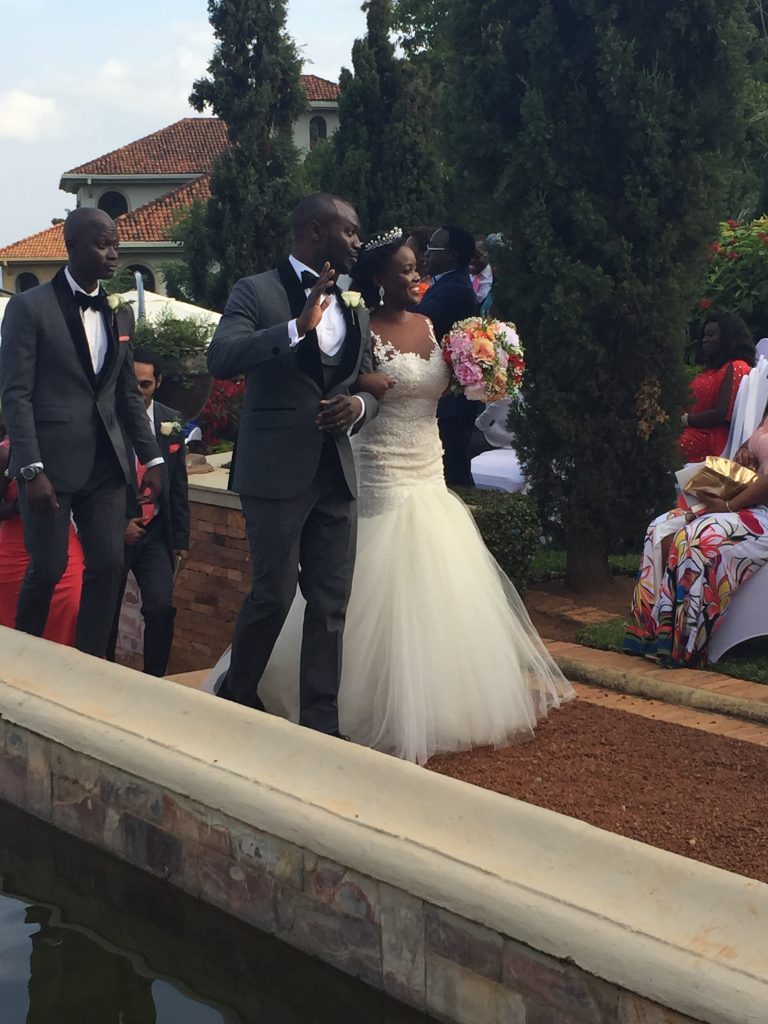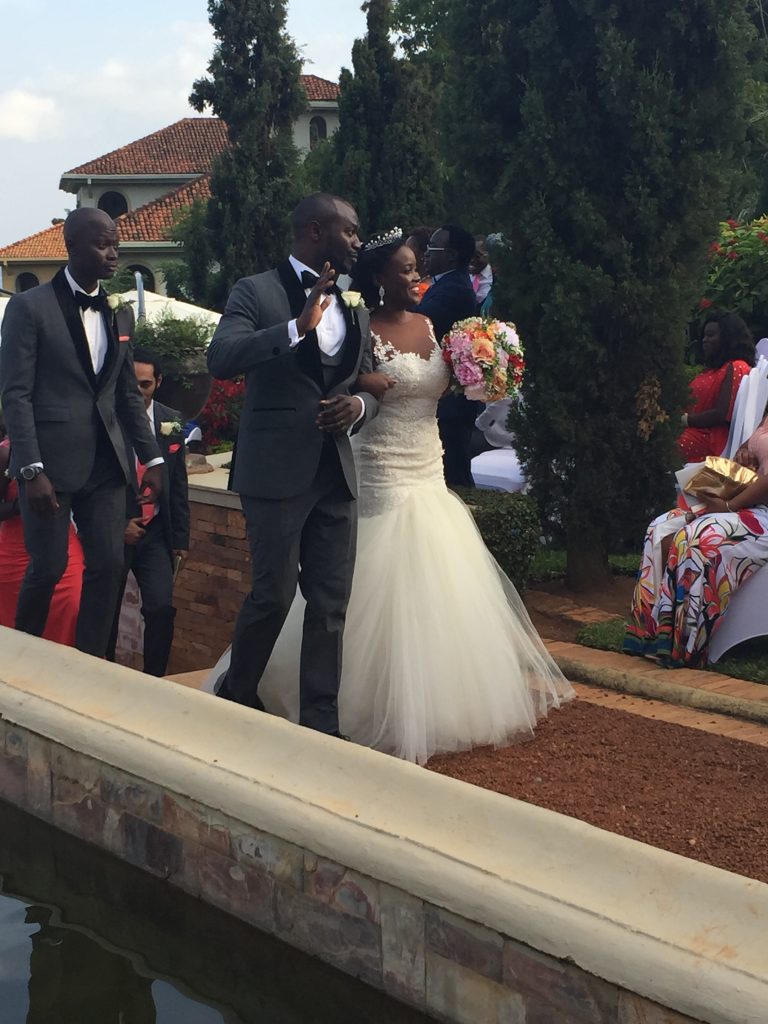 After the joining was over, we had a cocktail (which was very welcome because some of us had eaten very little at breakfast in the name of 'suck belle, make dress fine', lol) and then went to sit awaiting the arrival of the couple.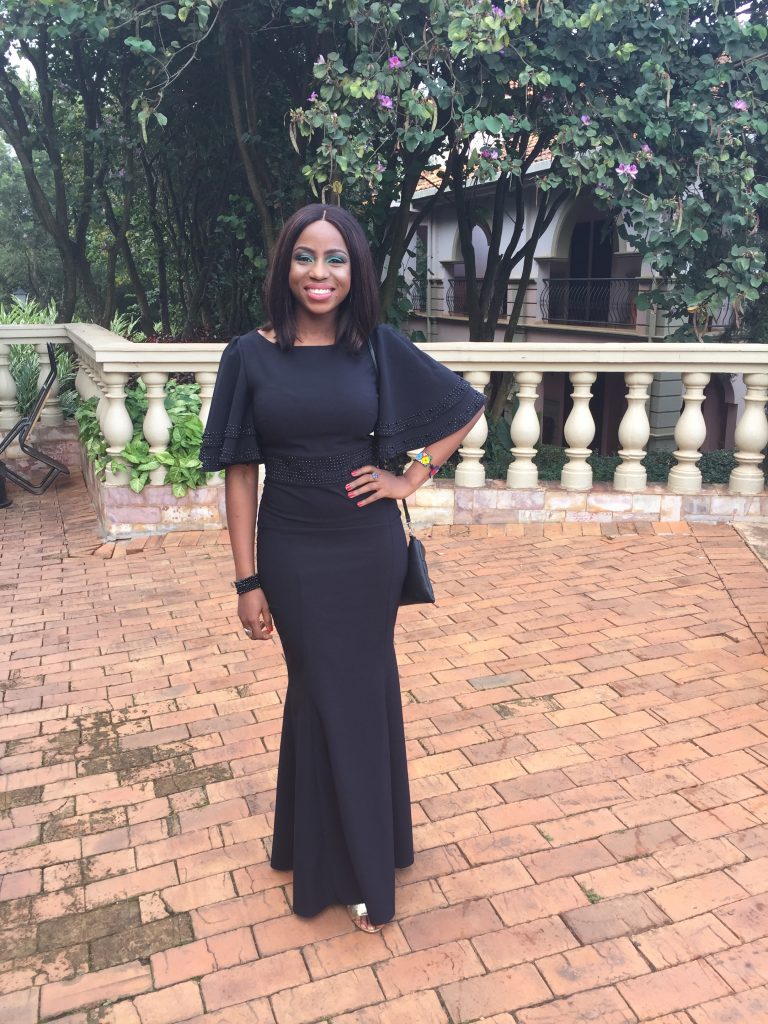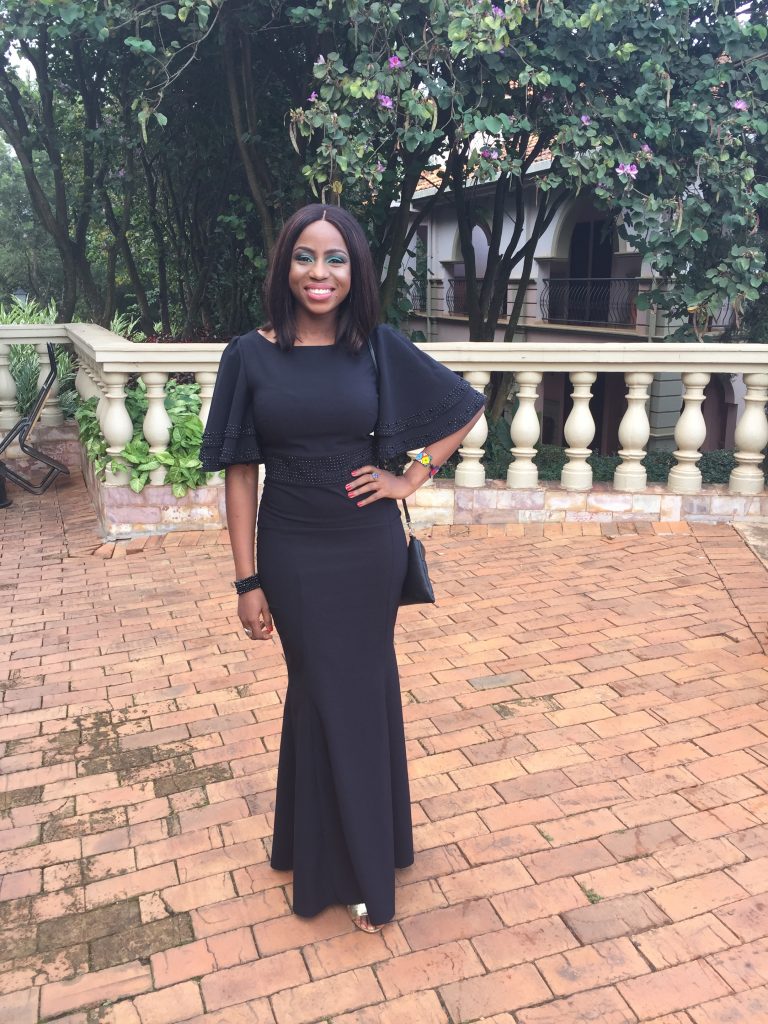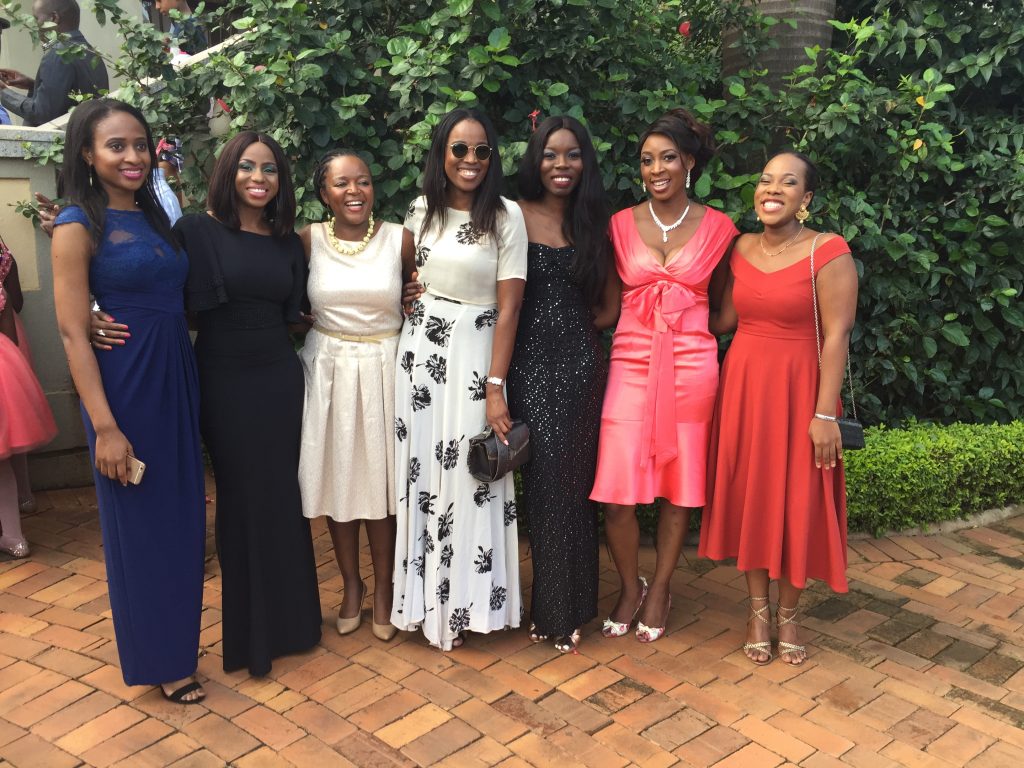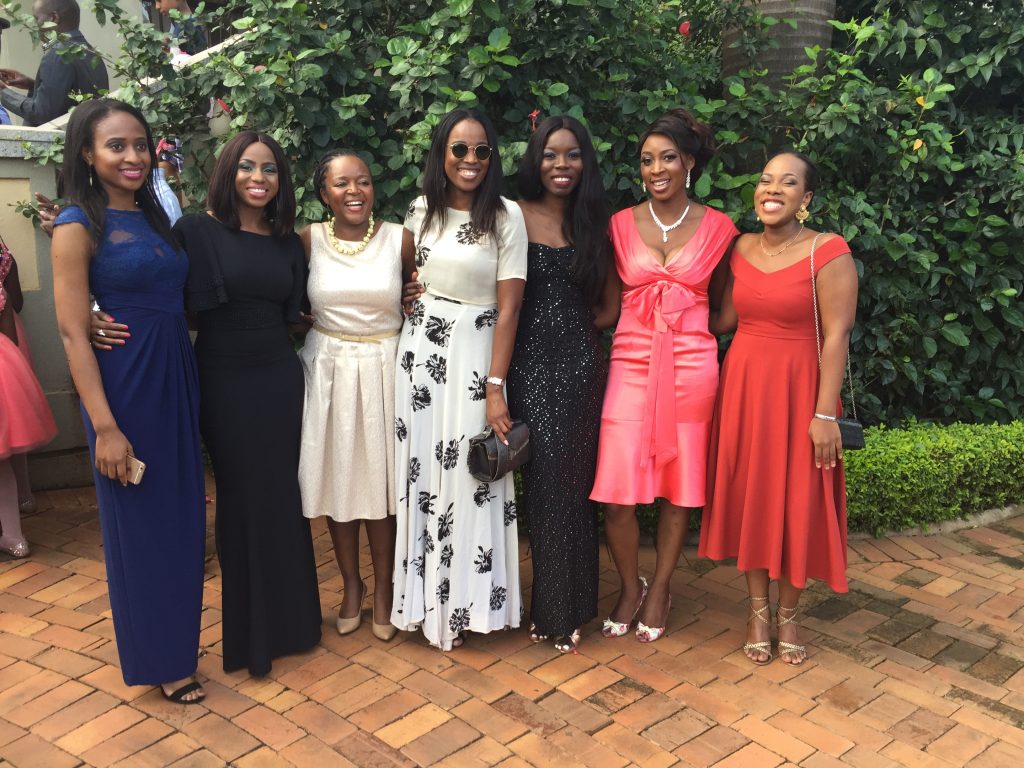 There was no dancing in for mummy and daddy o, lol. It wasn't about them, the ceremony was really about the couple. The couple danced in (their song was "Lagos to Kampala" by Runtown ft. Wizkid) and then took their seats with their bridal party up on stage. Then the speeches started, AGAIN! All the bride's close friends spoke. Then the groom's close friends. Then all the bride's siblings. Then the groom's siblings (although l think they didn't have energy so they nominated their oldest one to speak on their behalf). Then the bride's parents. Then the groom's parents. The parents essentially preached to us and gave advice and prayed and prophesied to the couple and the friends. The groom's mum almost did an altar call sef. She charged us (friends of the couple) to cultivate a close intimate relationship with God because that's all that matters.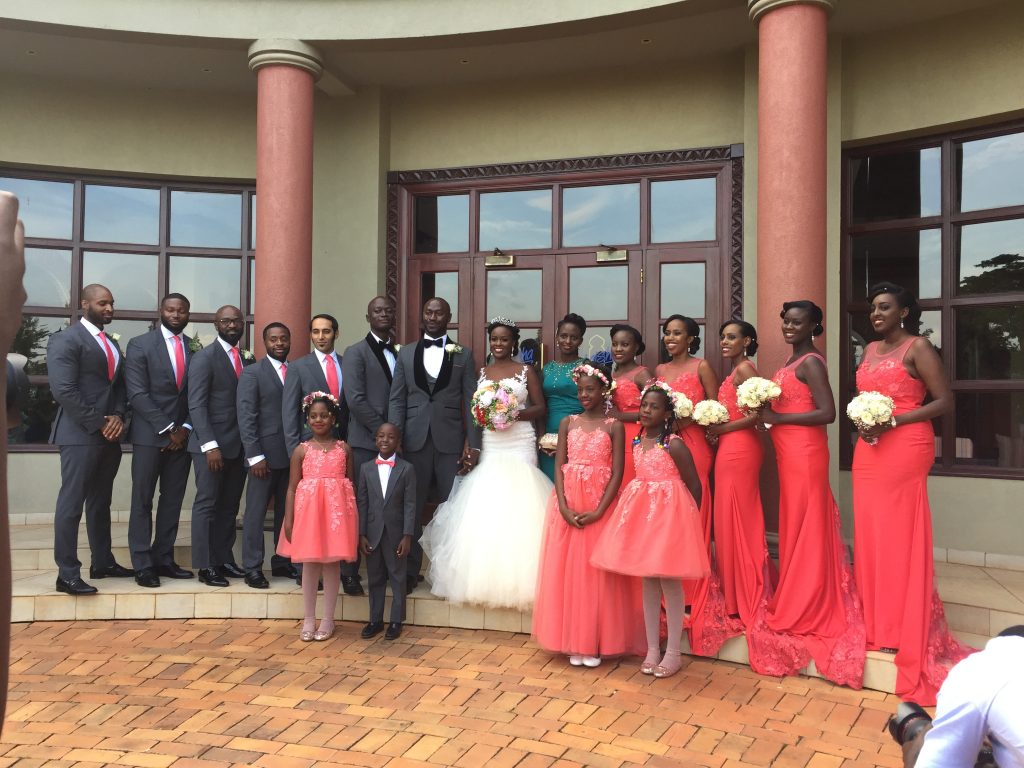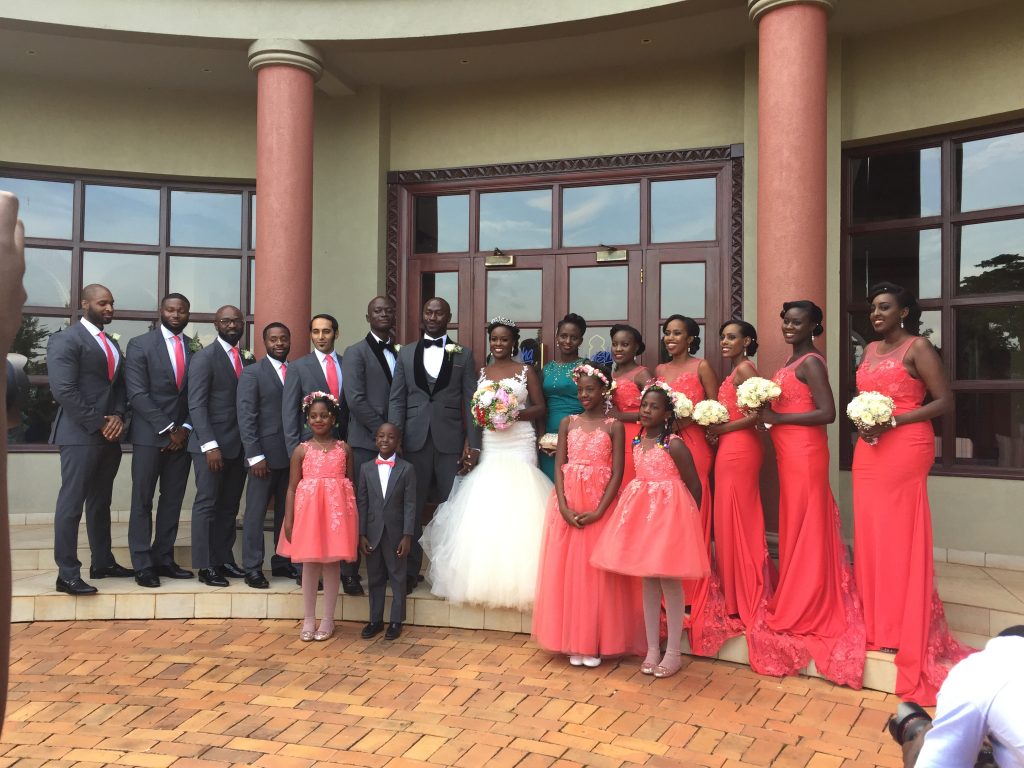 By this time, Lagos party people were ready to just slit their wrists, lol. More speeches? Oh no, kuku kee us, hahaha!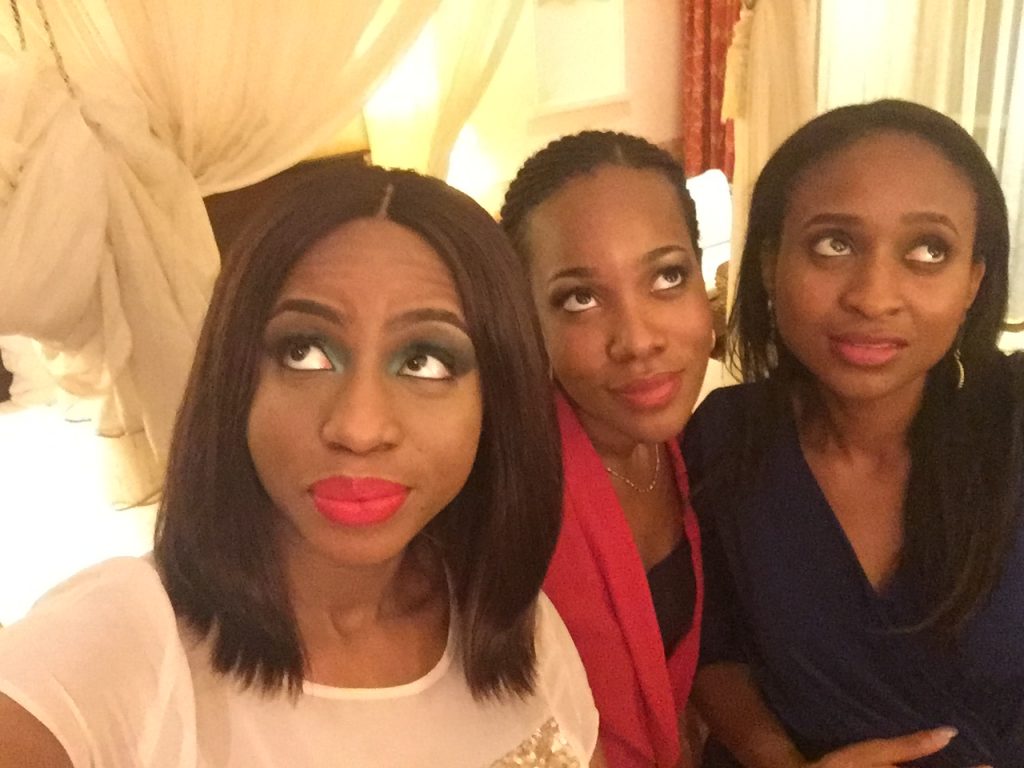 The bride and the groom cut their cake (there was no paparazzi or fireworks o!), had their first dance to Nosa's "Always on my mind" and then they gave their thank you speeches. The bride said thank you to everyone individually and mentioned that she's grateful for having a mother-in-law that's just like her mother so she's not worried about moving to Lagos forever. Then she turned to her husband and mehn, by the time she was done, we had run out of tissues. The way she spoke to him and about him was beautiful – you could hear how genuine the love was and how happy she was to be his wife. She was unashamedly declaring her love for him in front of all her loved ones and as she said, their love won't end here on earth so they both will continue to live for Christ so they can both go to heaven together. *sniffs* I love Holy love.
The groom also spoke and thanked his family and his in-laws and prayed that the purpose of their union will be fulfilled. I loved how he celebrated his in-laws especially when he said they need to package and sell whatever it is they used to raise such a strong godly woman like his wife. *dreamy eyes*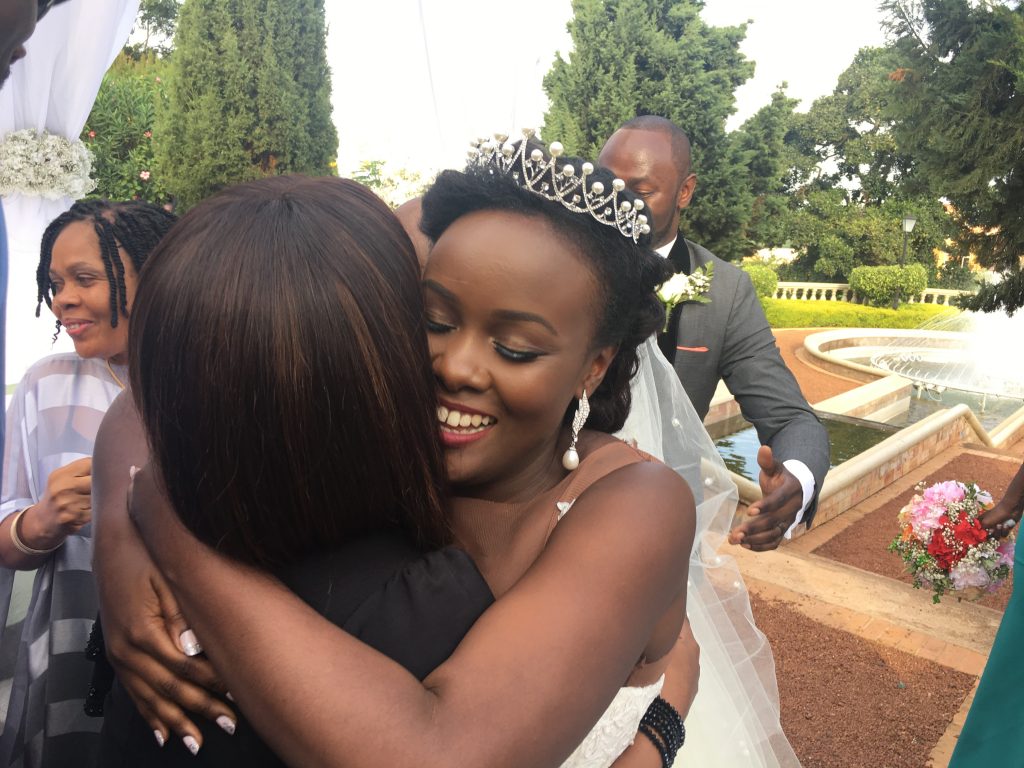 I am sure heaven was pleased about this wedding, as God took center-stage and was glorified every step of the way.
I think we danced for only about 30mins and then the ceremony was over.  About an hour after, there was a separate after-party event for the people who needed to dance, lol. The ceremony was so different. Usually in Nigeria, we dance /party more and only the best man (or whoever is giving the toast) and the groom get to speak. Here, it was the reverse. It was lots of meaningful speeches. I guess the Ugandans are used to it as they listened attentively while all the speeches were being rendered. The Nigerian side, on the other hand, was buzzing with activity and side discussions. Our attention span is super short, smh. The MC didn't even do plenty work apart from announcing who was coming up next to speak. If to say na Naija wedding, the MC would have to be thinking of jokes to use to engage the crowd, lol.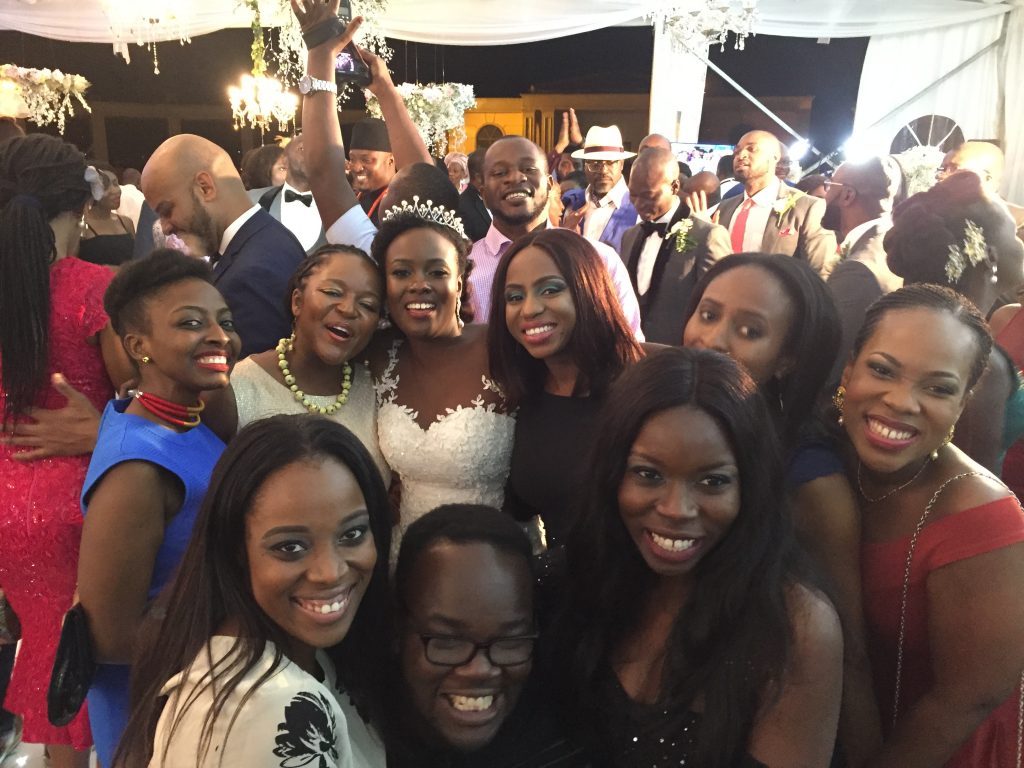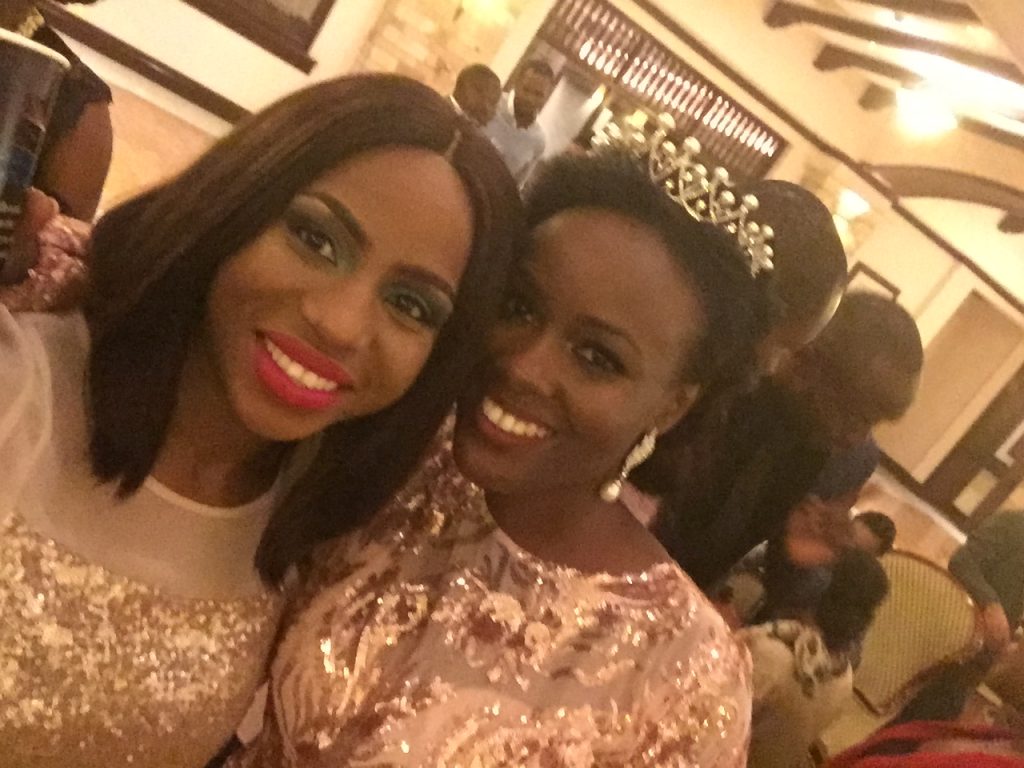 We partied till morning and I spent Sunday just chilling (and catching up on all the work I ignored on Friday). Some folks went white water rafting (we all know this Ijebu girl is not usually great in water, lol), some others went visiting the source of the Nile, museums and other touristy sites. Although I was unable to really explore Uganda as a tourist (you know what this means, I HAVE TO GO BACK!!!!), I thoroughly enjoyed my time in Uganda.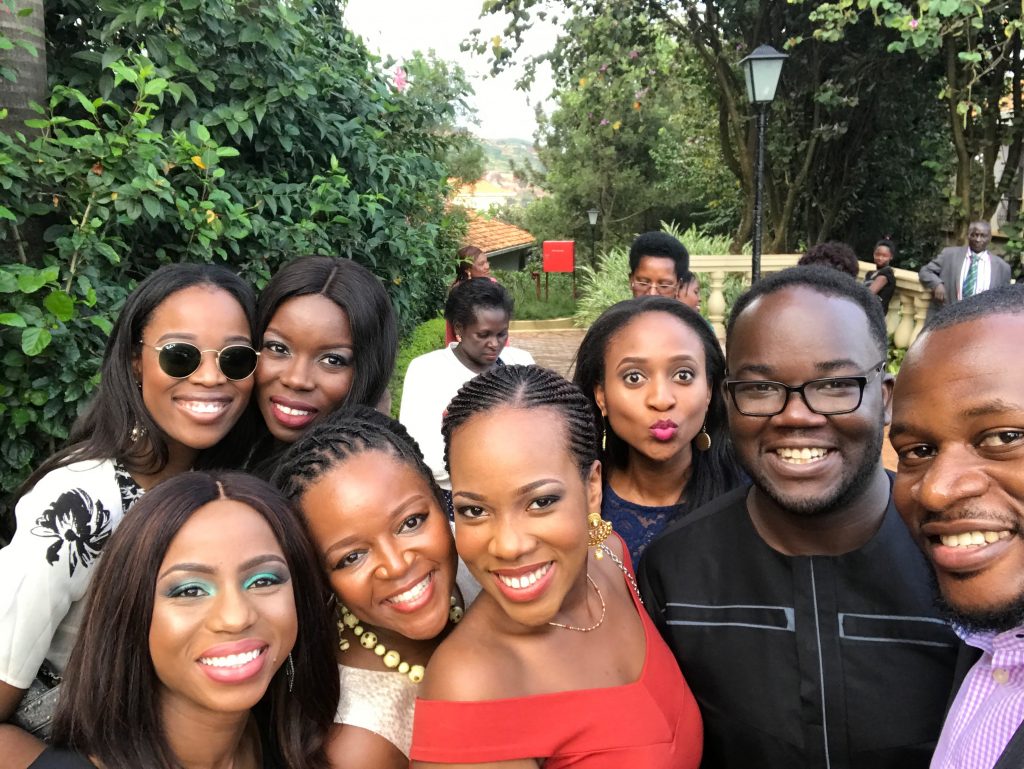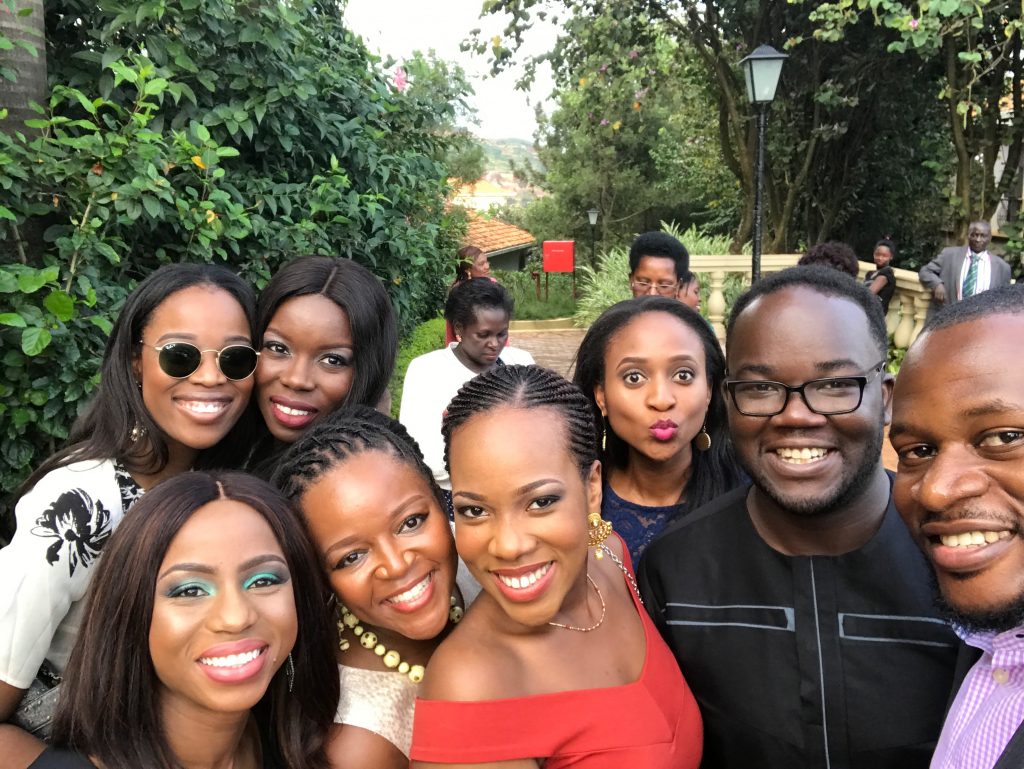 There were so many points of light for me during this short stay in UG. It was a beautiful weekend – a vivid reminder that true love exists and that we should not get cynical about love. The bride moved to Lagos in 2015 without knowing anyone in the city and look at God – He sorted her out so nicely with a mighty good man.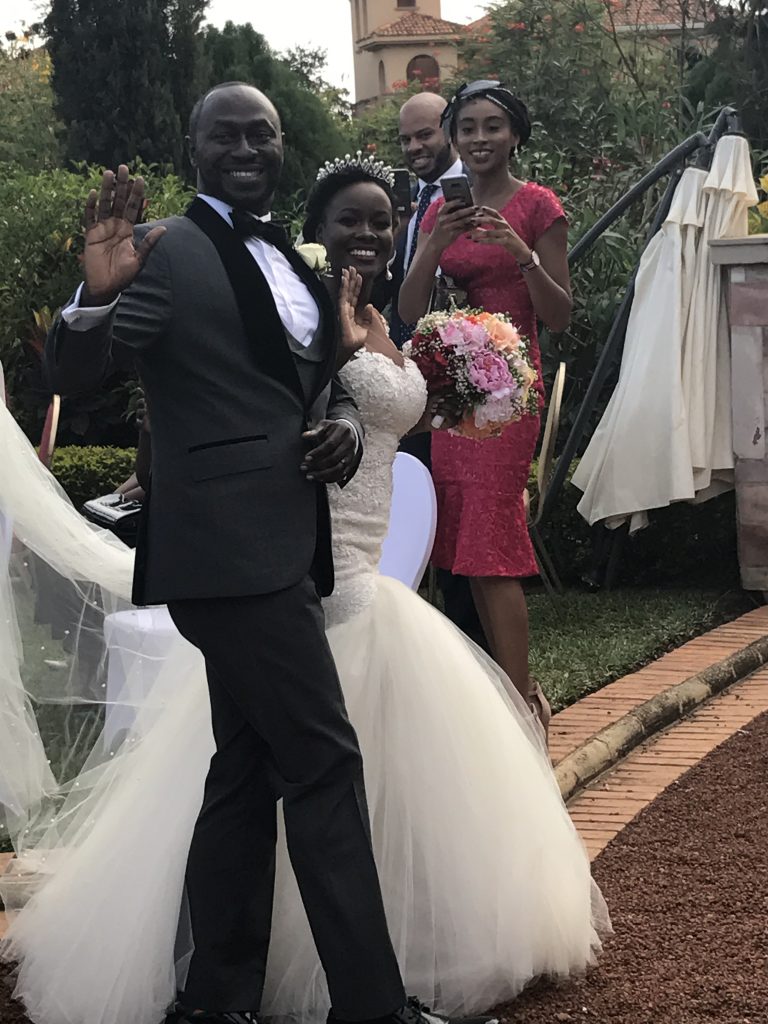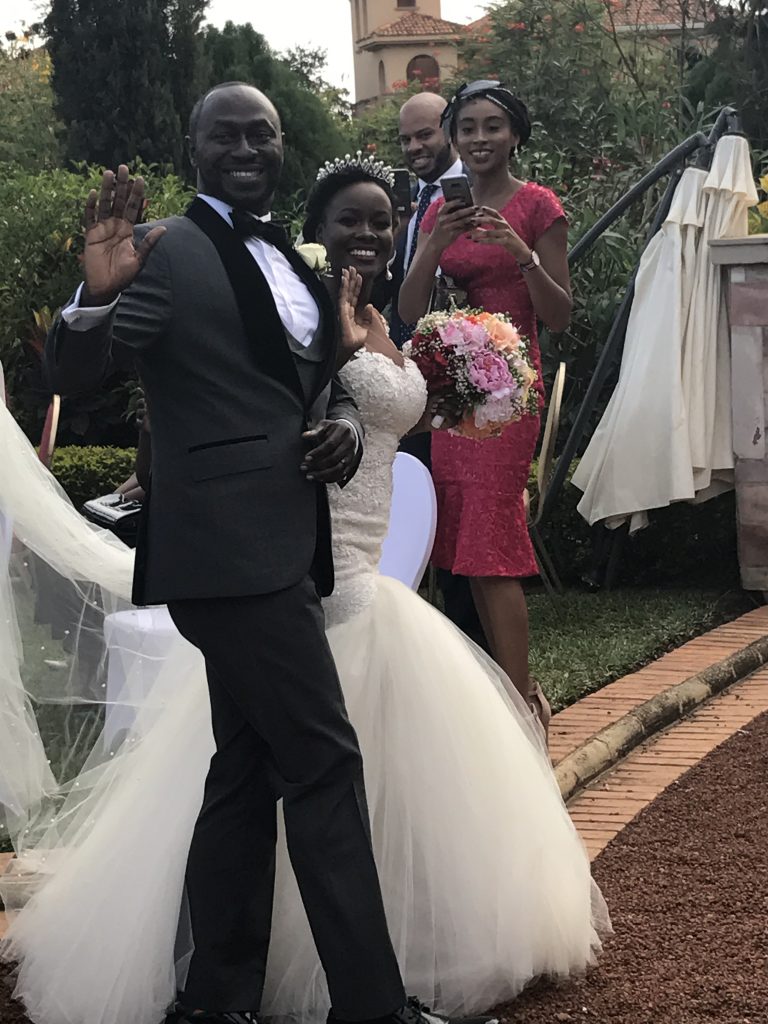 It reminded me that I can still have butterflies at my age and that love can still be beautiful and exciting and thrilling. The speeches by the couple's friends made me wonder what my friends would say about me and made me check if I've really been the best friend I can be. The bride's cousin who was in charge of logistics (airport transfers and all the ground transport between the different locations) is the most selfless person I have ever met. He went without sleep for days ensuring that all the guests were picked up at the airport on time and without delays. He was patient with all of us and ensured everything went hitch-free. I jokingly referred to him as our fairy godmother, because he had answers to all our questions and sorted out every issue anyone of us encountered. Again, I was inspired to be that selfless for my people.
All in all, I am the one richer in soul and spirit for attending this wedding. Instead of invading Uganda, I think Uganda invaded me and opened up my heart to a different expression of love. I am usually not this mushy but I can't help myself this time 🙂
Uganda, I will be back soon. For now, let me go and start preparing my wedding speech. That microphone must not pass me by on my wedding day, lol.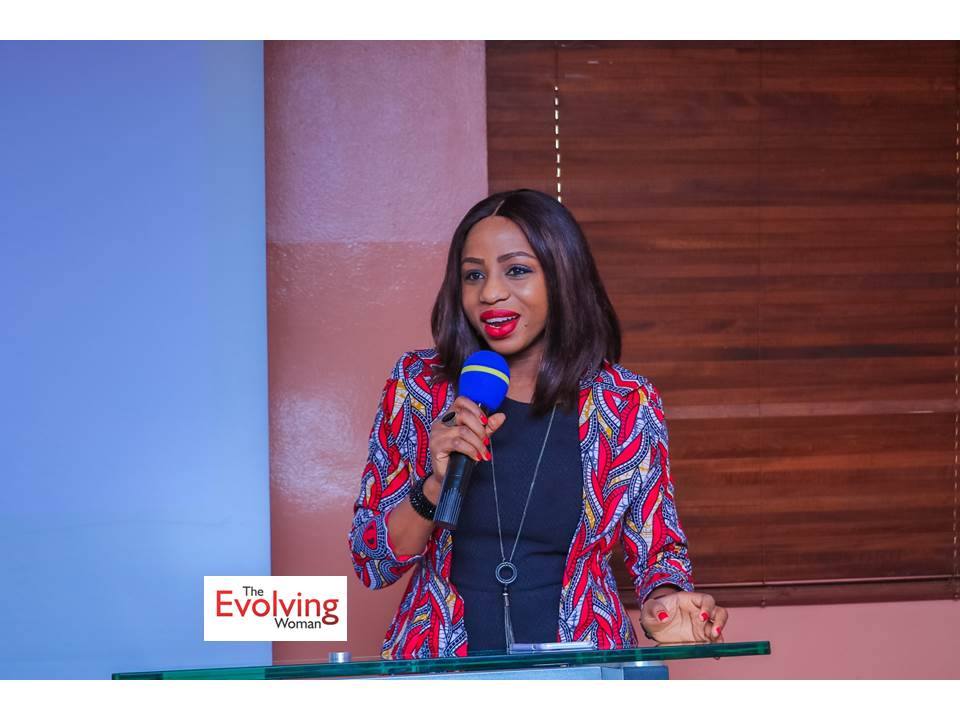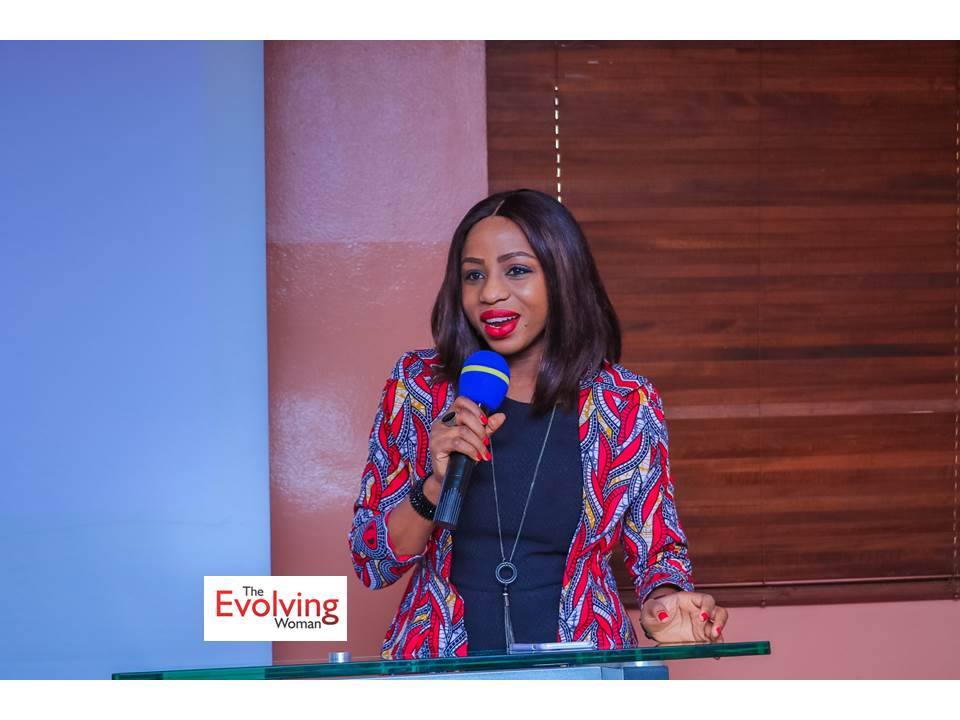 Wishing you all love and eternal happiness,
Kemi
(Visited 72 times, 1 visits today)