Happy New Year joyful people of Kemi's Blog land!!! My heart is so full of JOY and positive expectations for 2018! I see promotions, new streams of income, business expansion, new relationships, engagement & wedding rings, babies, celebrations, growth, and so much more in 2018! Do I hear an AMEN???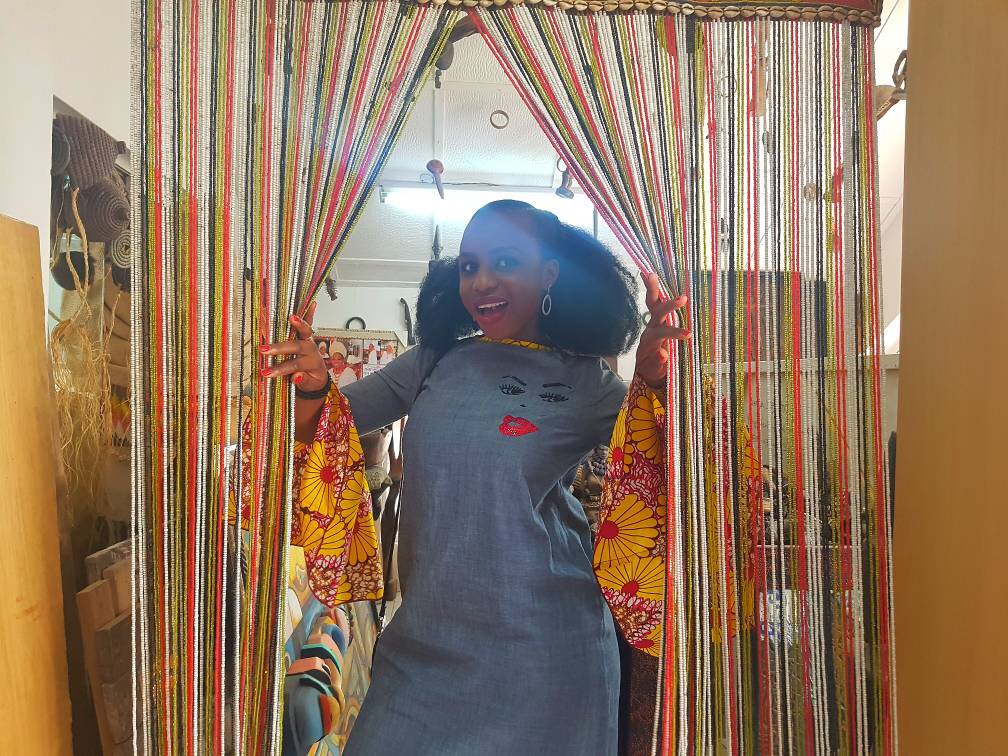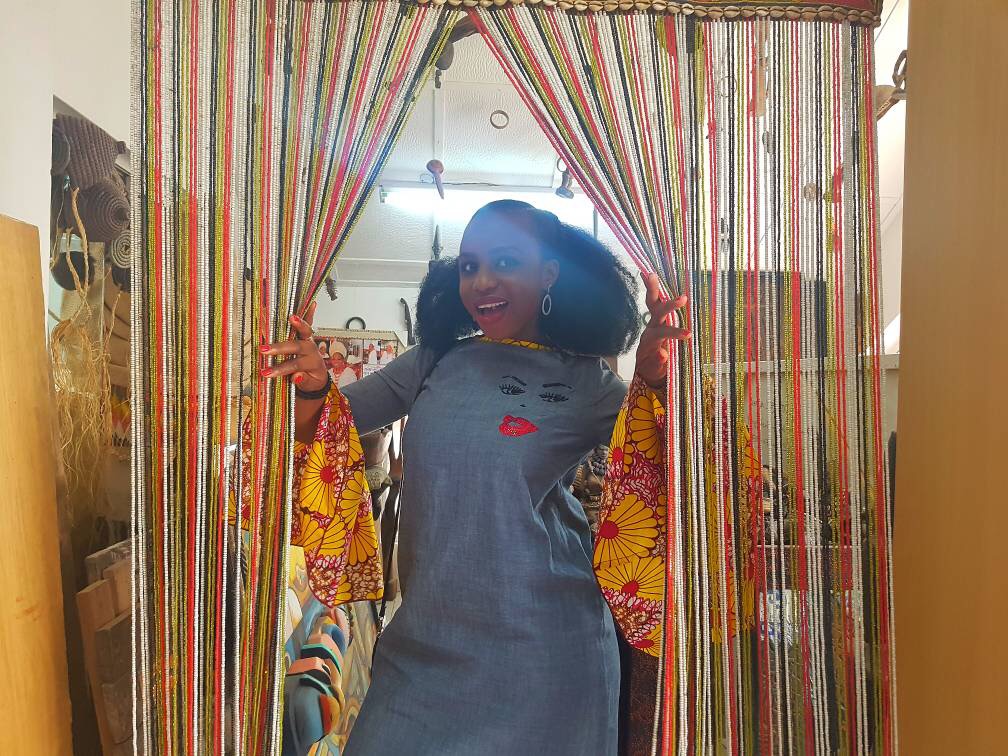 Anyone who attended primary school in Nigeria would remember that every time we returned from a break/holiday, the very first English Language class assignment would be to write an essay on 'How I spent my last holiday'. Right? So, in keeping with tradition, this blog-post is essentially a recap of how I spent my Christmas/New Year break in Lagos. I definitely need another holiday now – Jesus be an energizer!
My break started from around the 21st of December and it was marked by the arrival of my 'started from Instagram, now we are real friends' buddy – Dorcas (@wellwornheels). She came and literally turned my world upside down, lol.
Given that she had not been to Nigeria in a long while, she was on a mission to check everything off her 'Naija bucket list' and I was a very willing accomplice and chauffeur (aka professional driver). That bucket list had everything from food to eat (amala, boli, etc), shows/concerts to attend, places to visit and explore across Lagos.
We did a LOT of things and I will just try to recap some of the highlights. We started from the Joyful Joy Laugh Fest (a charity comedy event to raise funds to fight malaria) where I won the celebrity auction to have dinner with Lynxxx (see proof below, hehehehe). It was a lot of fun, for a good cause. We even got to see Yvonne Orji perform in person, plus we saw our favorite couple – Susu and Banky (and we got inspired to go watch The Wedding Party 2 the next day)!!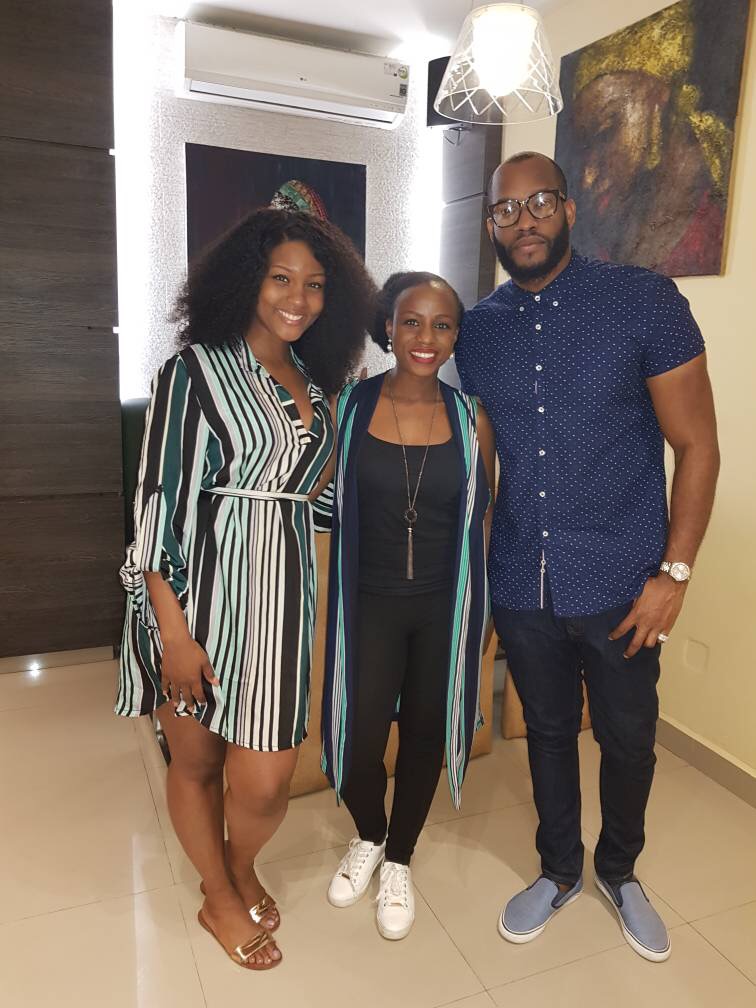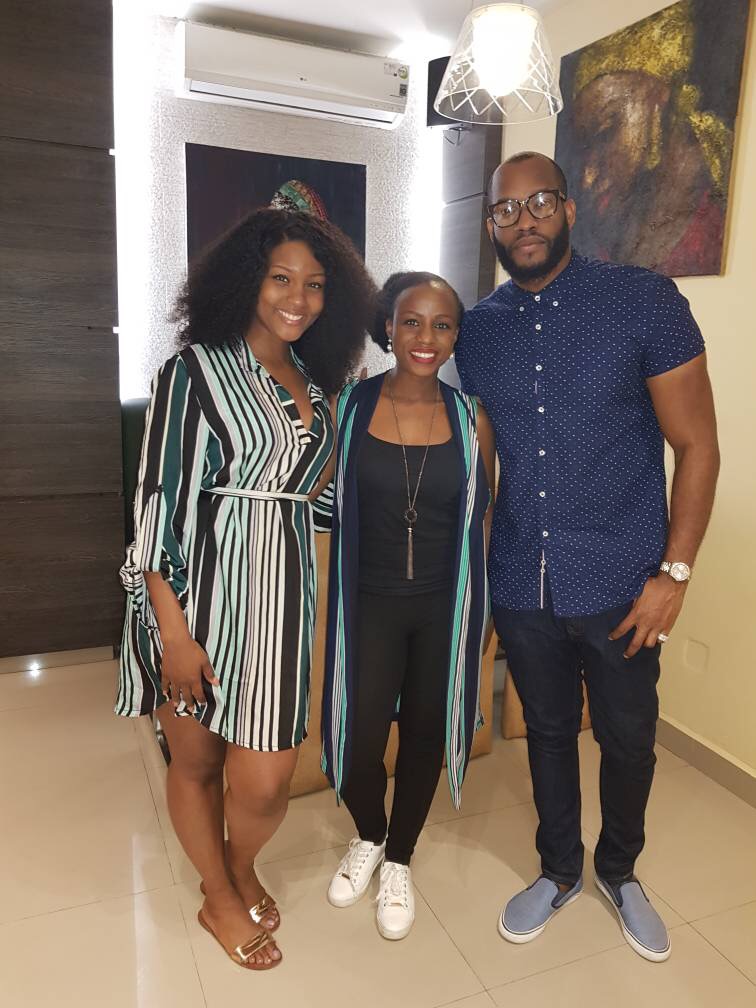 We also attended the Adekunle Gold concert (#epic #legendary #amazeballs) and danced to our hearts' delights. Mr Gold is GOLD! Finish!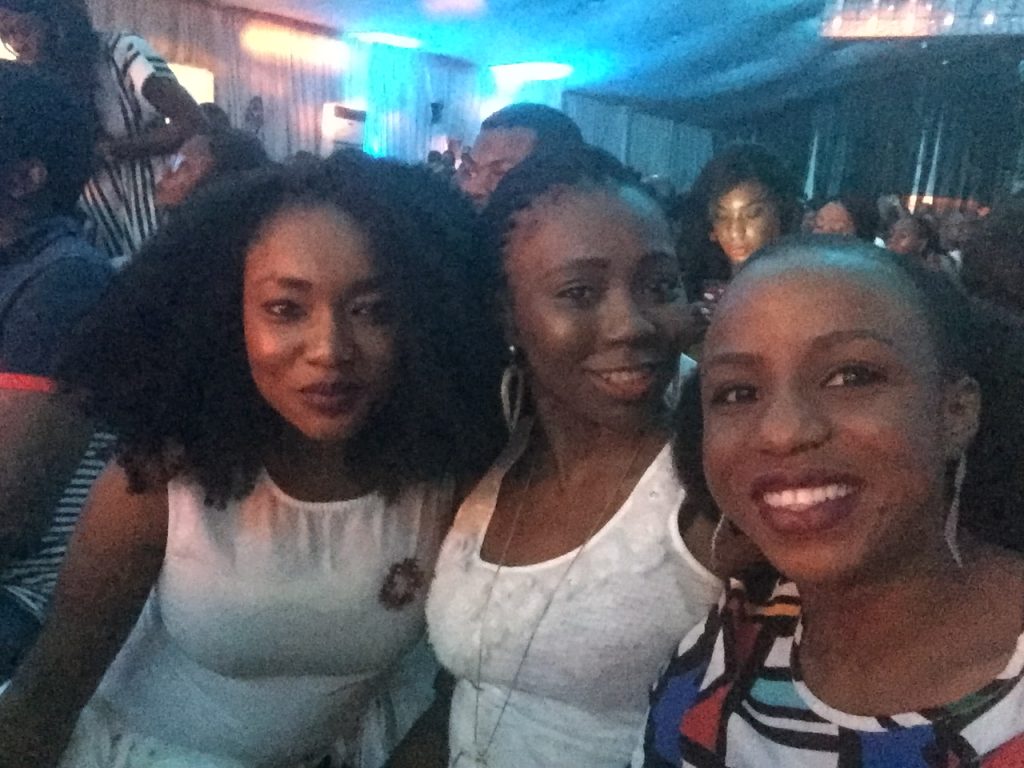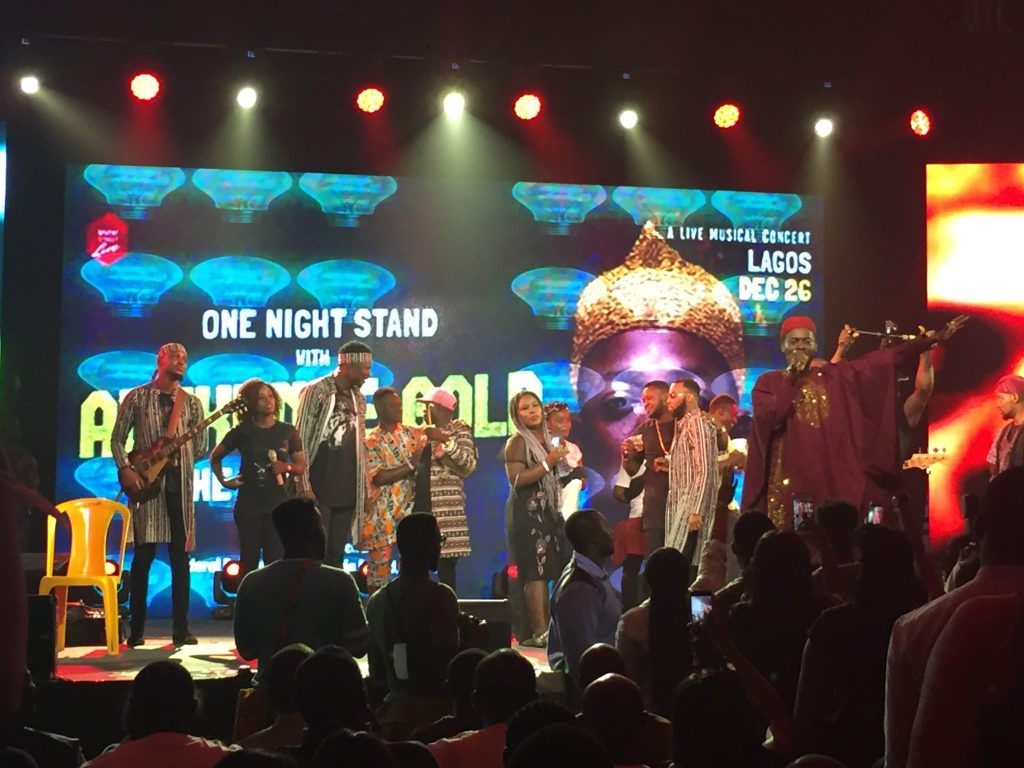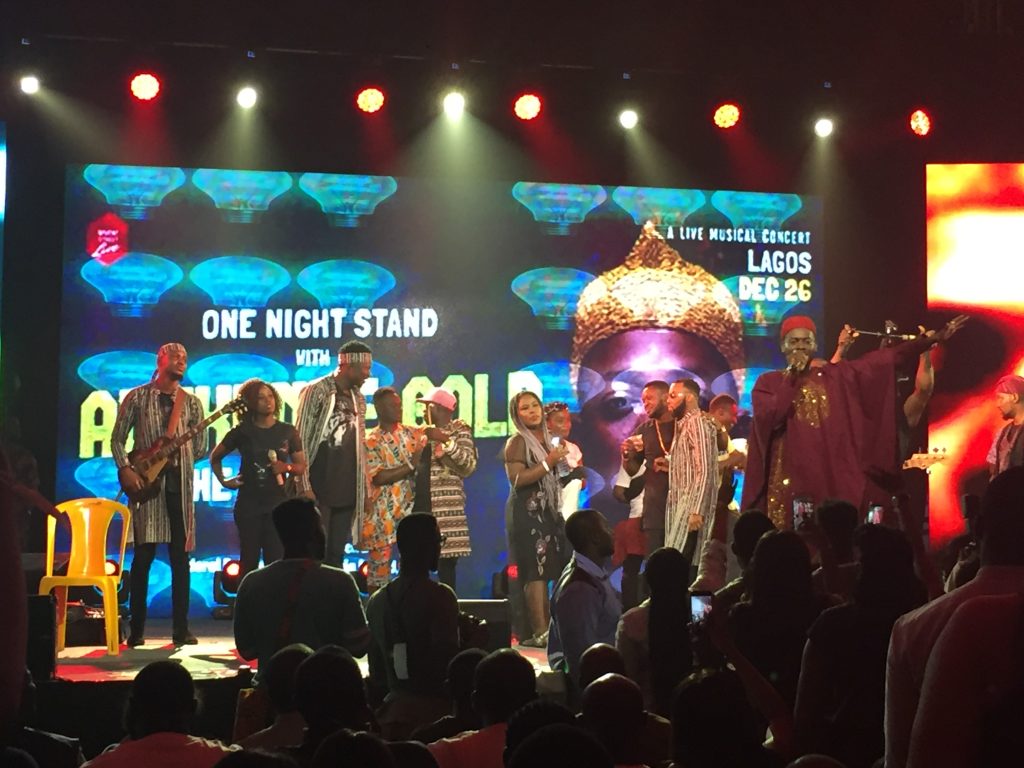 I also behaved like a proper 'I just got back' and explored Lagos (Terra Kulture, Nike Art Gallery, Lekki Craft Market, etc) as a tourist on a tricycle (keke, tuk-tuk, etc) with a cool crew of ladies – it is always nice to make new friends and connect with old ones. My girl Nene wrote a fabulous review of the Keke Experience which you can/should read here –  https://www.nene-uwa.com.ng/2018/01/ajala-nenes-trip-keke-experience-lagos-nigeria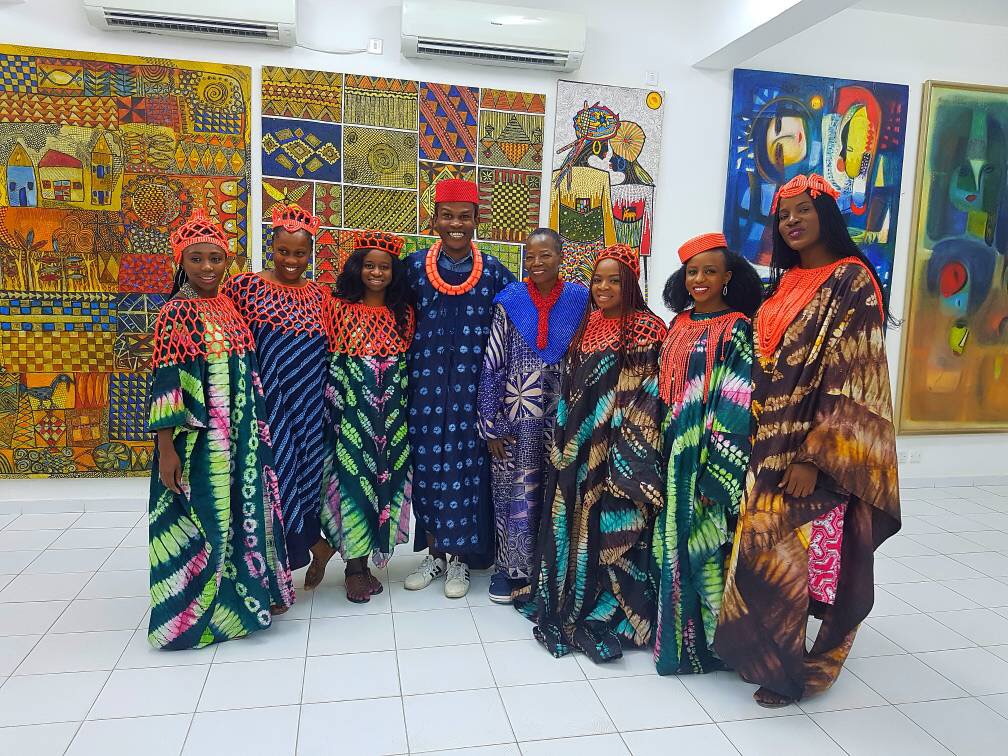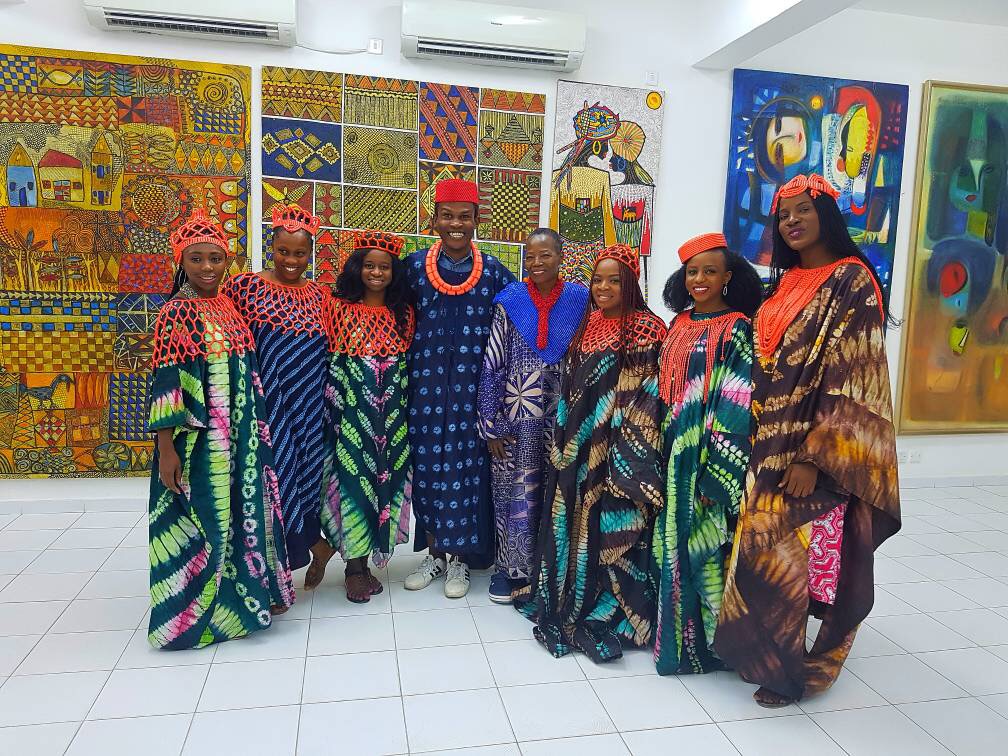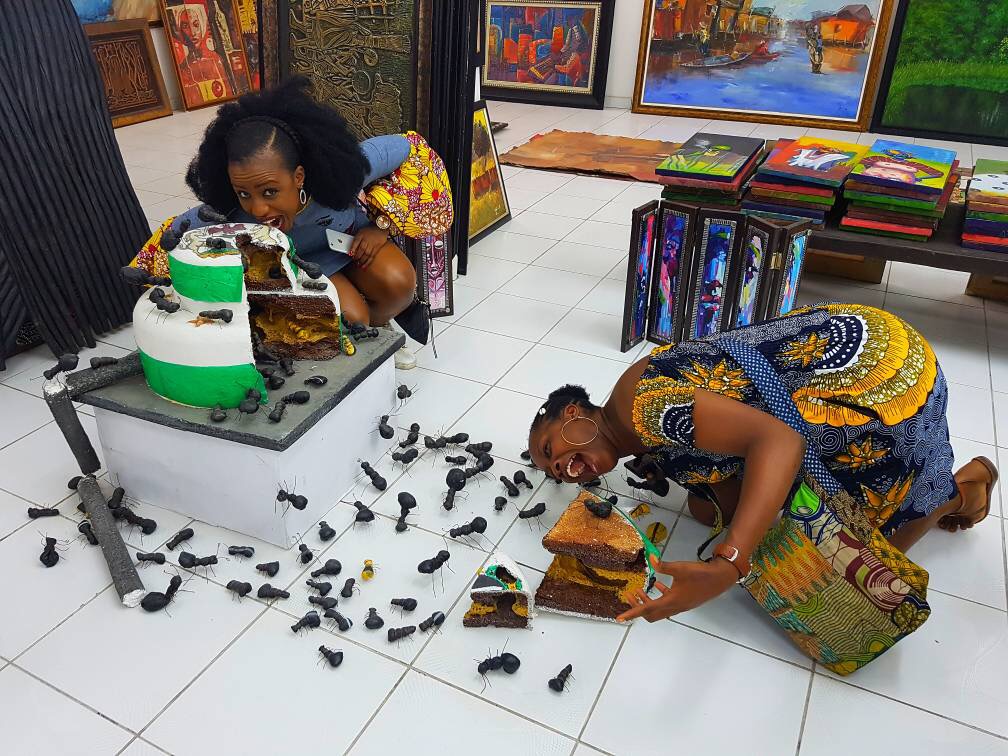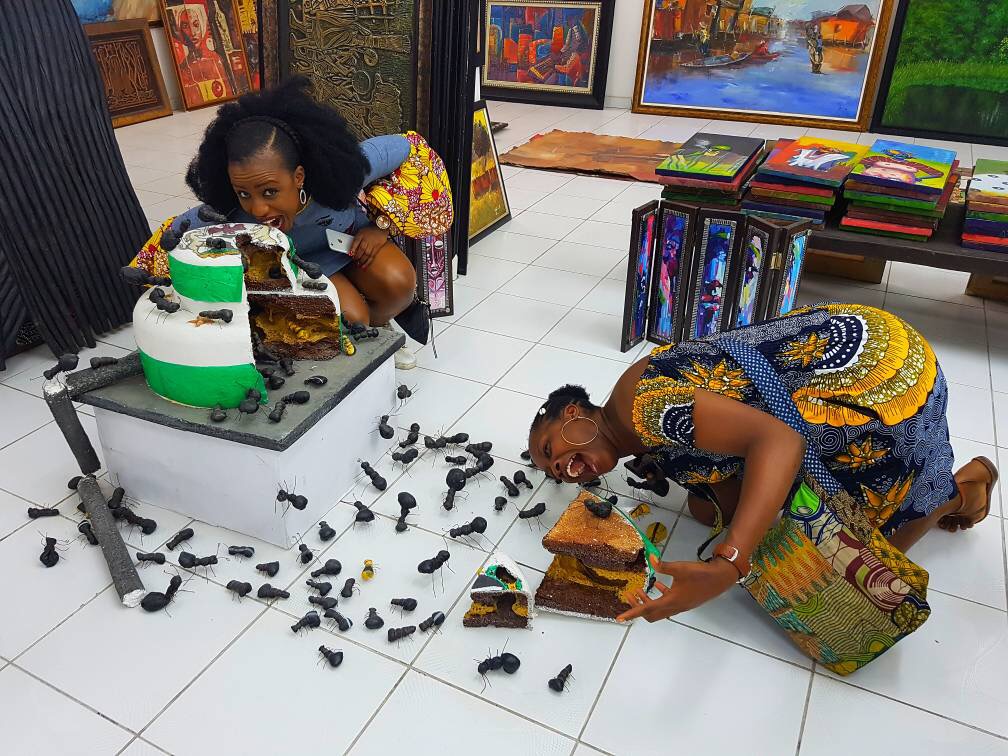 We crowned the entire experience by watching the Fela & the Kalakuta Queens show. The show is incredibleeeeeeeee! If you haven't seen it yet, you have one more weekend to do it ( 2 shows on both Saturday and Sunday at 3pm and 7pm) – don't dull!!!!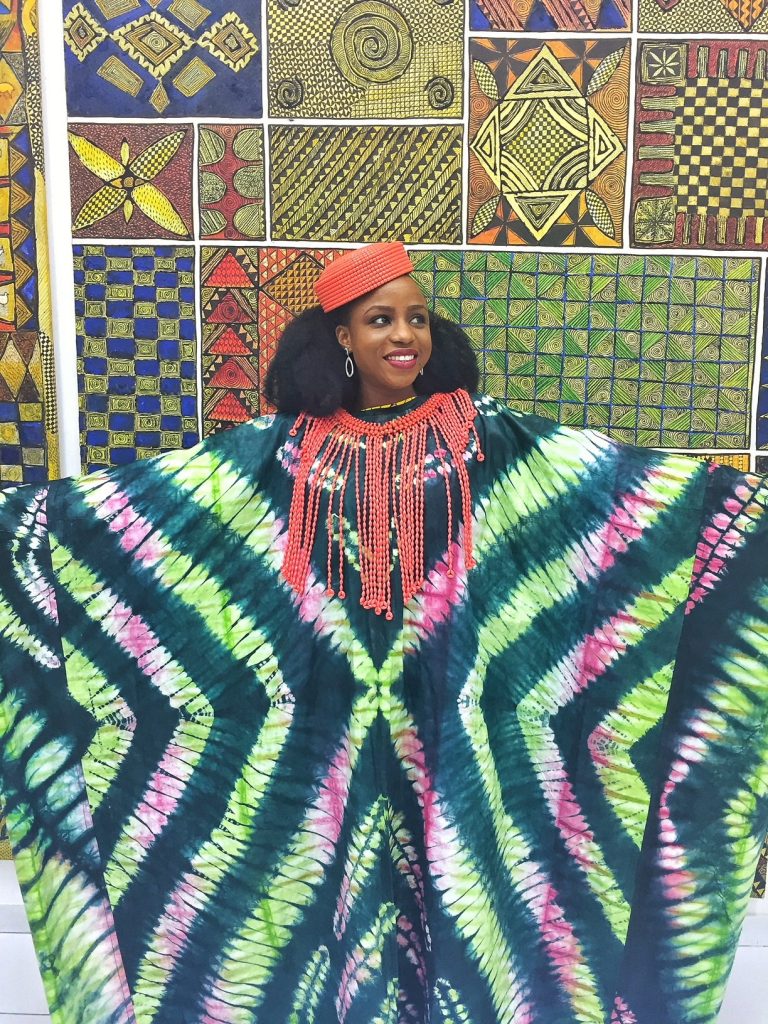 One of the highlights was getting to meet some of other Lagos-based travel bloggers and curators. Mehn, that was an experience. Each of these women are doing amazing things and I am so honored to have met them in person.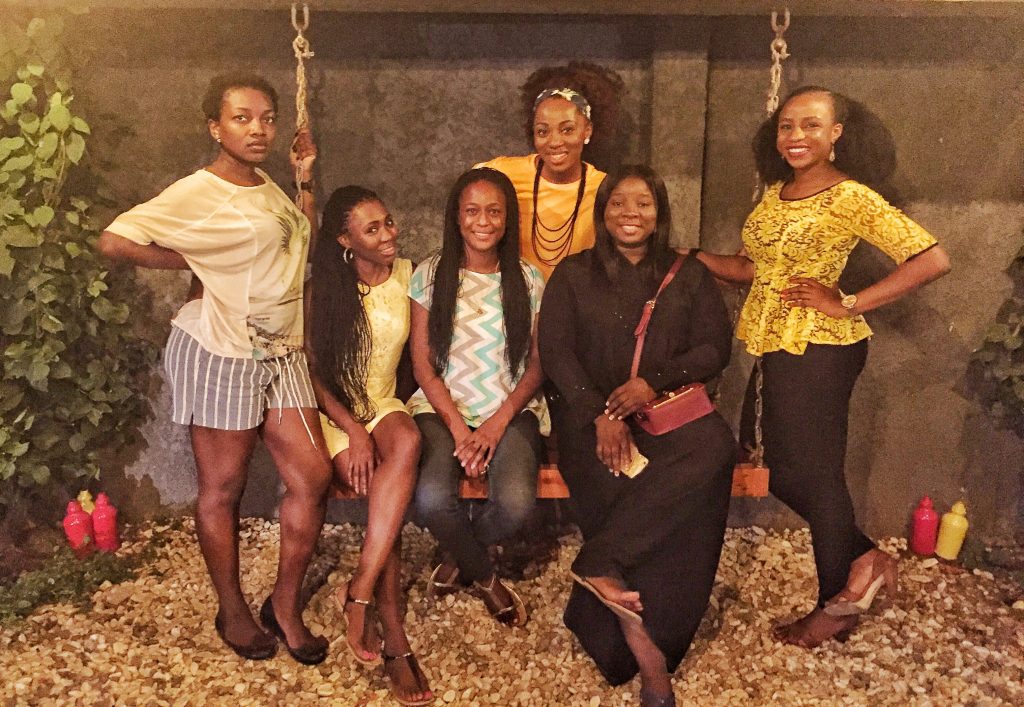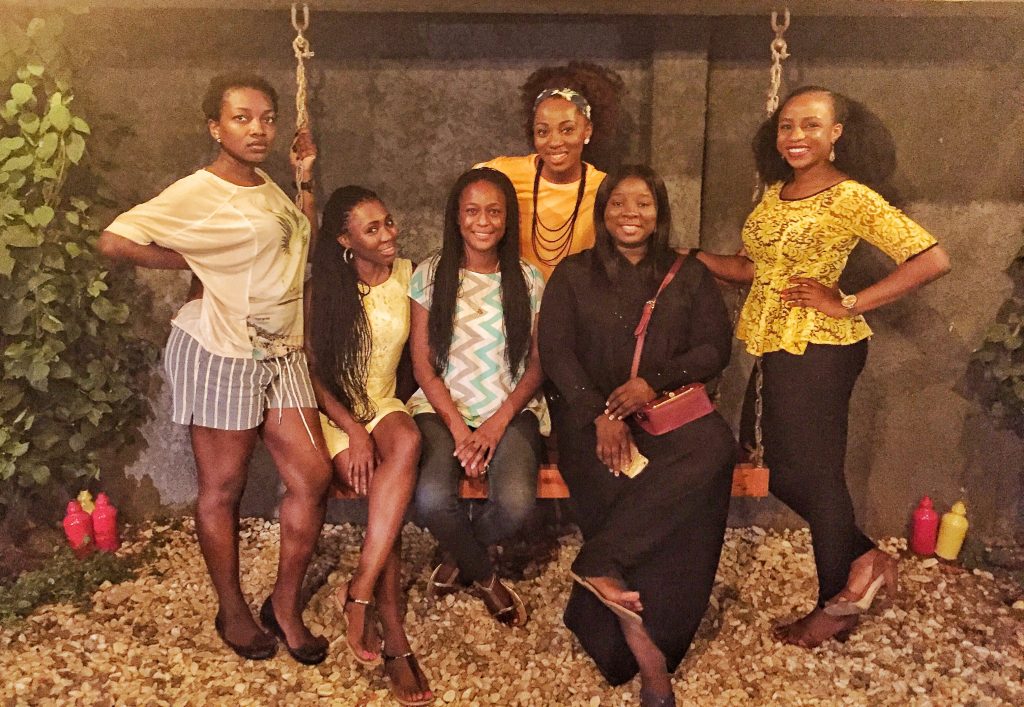 From L-R (hehehe), we have Lola of @unravellingnigeria who has explored some deep places in Nigeria and the great thing is she takes people there; Dorcas of @wellwornheels who is an auditor by day, travel addict (with 40+ country stamps in her passport) and blogger by night; Fola of @folaswaka who may be low-key (for now) but guys, do not underestimate the tips and tricks she has under her hat; Yejide of @naijanomads who is all about curating adventurous experiences to green passport friendly destinations (international trips only – she has trips to Lebanon, Mozambique, Rwanda, Tanzania and Morocco planned for this year); Margaret of @theajalabug who has been to places in Nigeria that most of us only know from our 'states and capital' citations from primary school!!! She also reviews hotels, resorts and restaurants; and then there's me – you already know!
Yejide, Dorcas and I collaborated on the giveaway grand prize trip to Morocco – a true example of collaboration over competition. I am looking forward to spending more time with all these amazing ladies (and meeting more members of the travel tribe) this 2018, l'agbara Olorun (by the grace of God).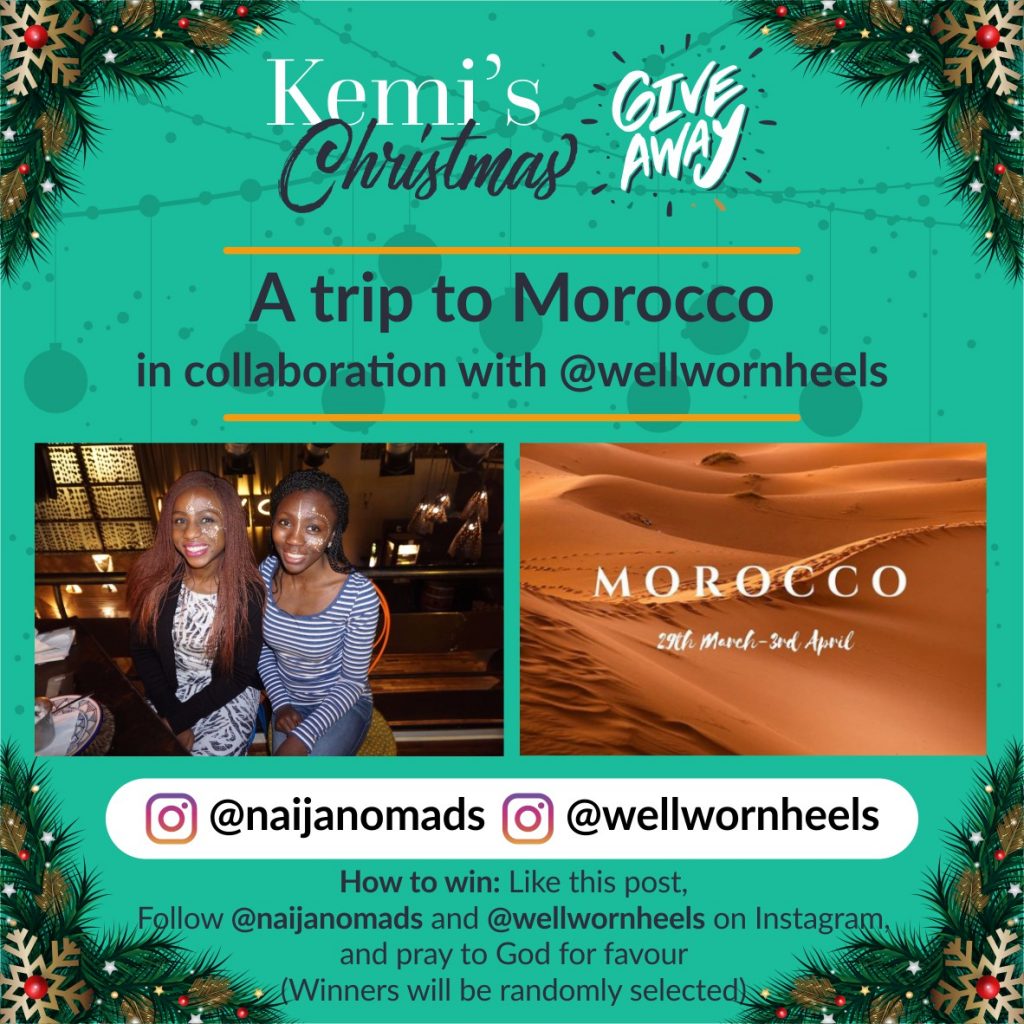 My girl from business school, Lakheni, who is South African, was also visiting Nigeria for the first time and this time around, I was the one managing the bucket list (eat jollof rice – check, eat pounded yam – check, go to Nike Art Gallery – check, go to Lekki Craft market – check, attend a Nigerian show – check, get fat on plantain – check, eat small chops – check, hahahhaha.) You get the general idea of this bucket list now!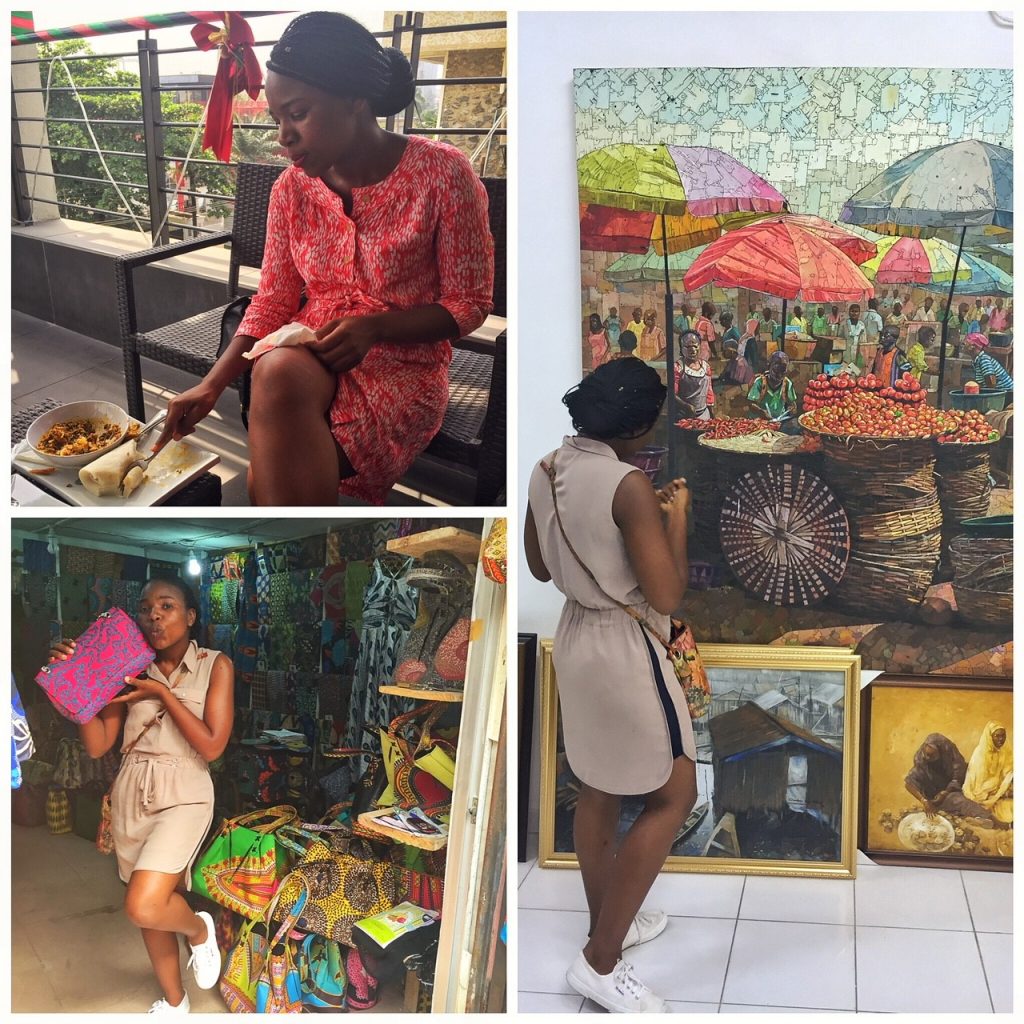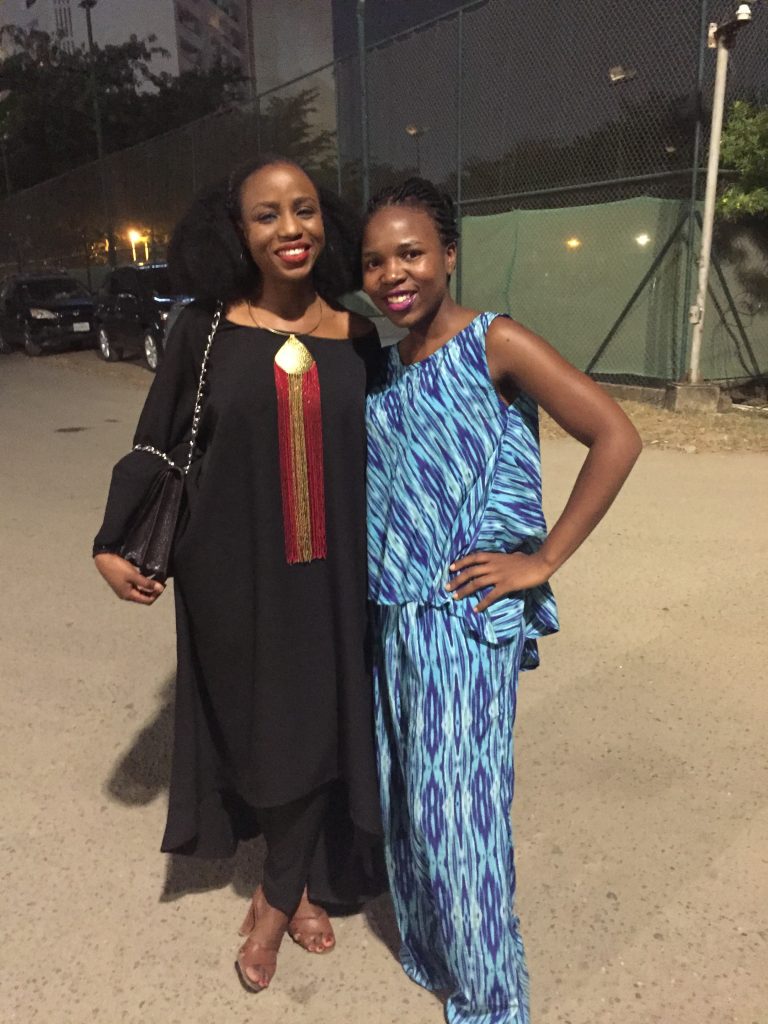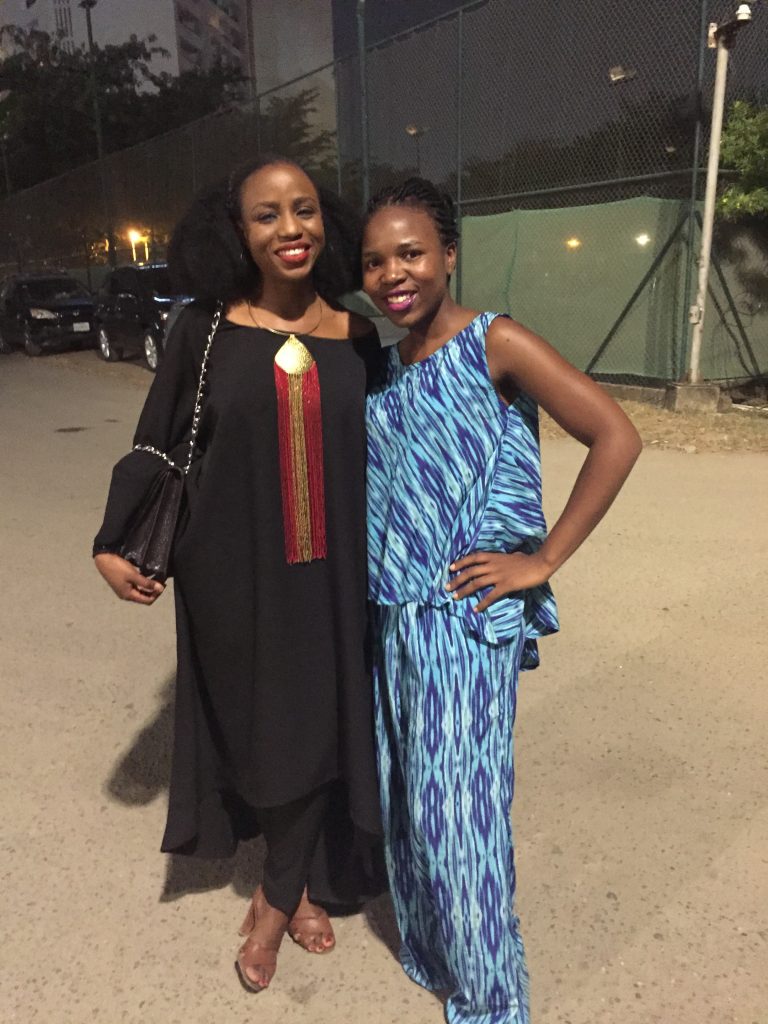 The only thing we did not manage to do on the list was get her to eat suya – by the time suya was ready every day, we had eaten ourselves to stupor and just could not make space for any more food. I am so afraid to get on a scale now *covers face* This brings me to a very important question 'why is suya only sold at night???"  If anyone can tell me, I will be forever grateful.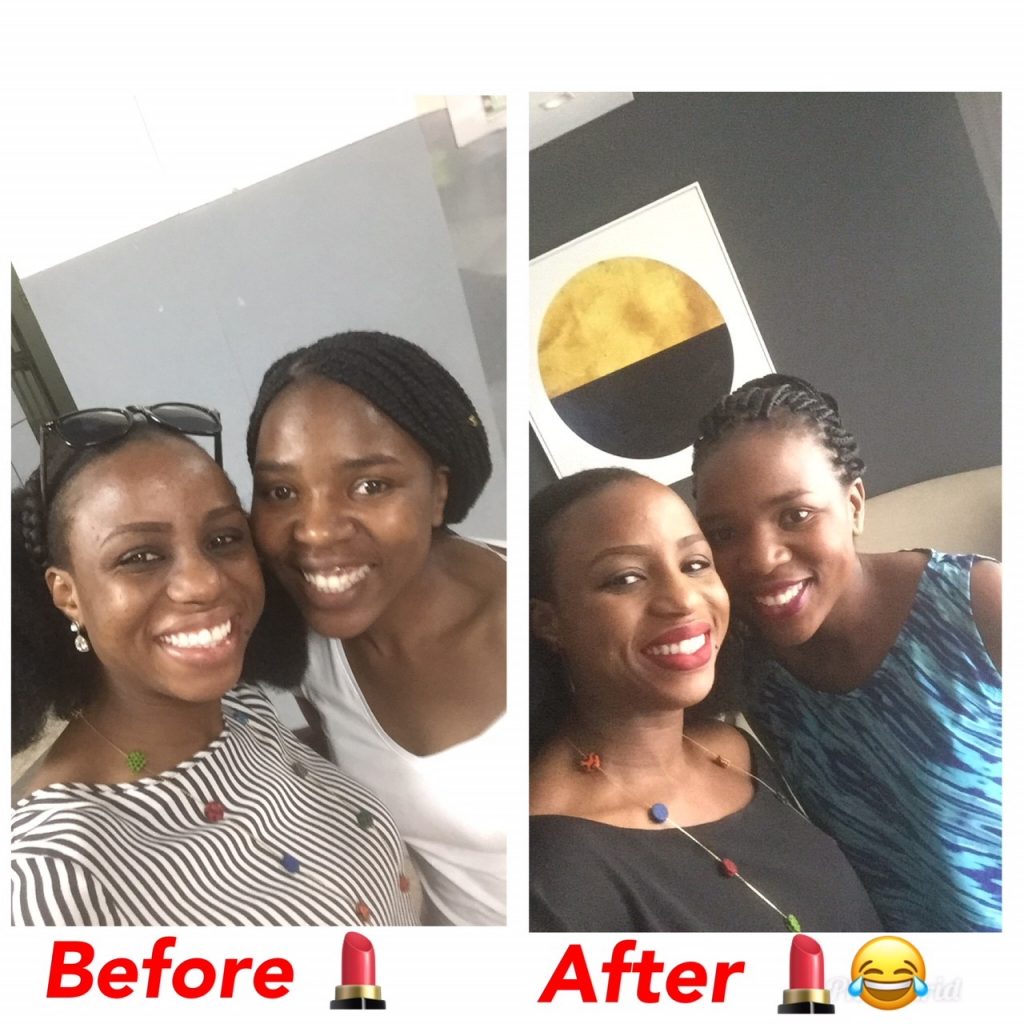 We also took the opportunity to connect with other members of our class who happened to be in Lagos as well- my sister Tim-Tim (remember her from last Christmas?) and the man Ro-Ro.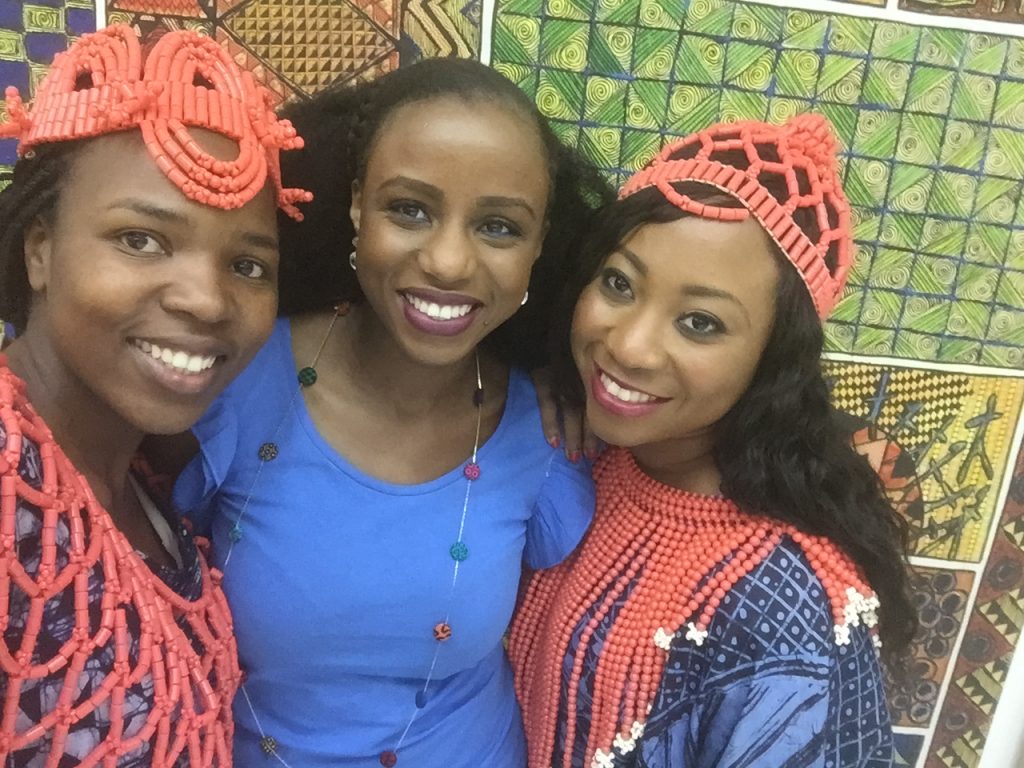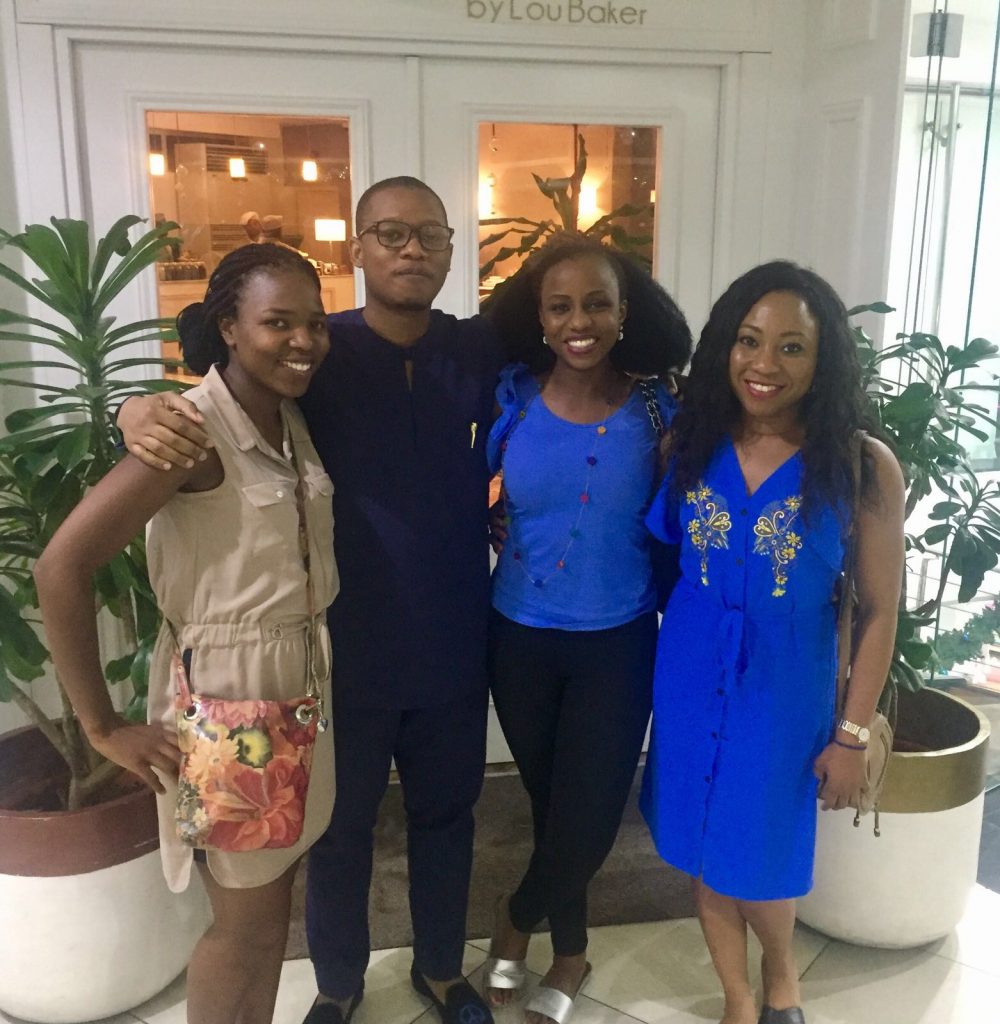 What else did I do o? Yeah, I went to the Bez Live concert (again!) and it seems like I will be an annual attendee. As always, Oga Bez and all the other artistes that opened the show delivered exceptional performances. I found the 'kiss cam/dance cam' attraction super cool. I guess the kiss-cam didn't bother coming near me because I was surrounded with my army of ladies, hahahaha!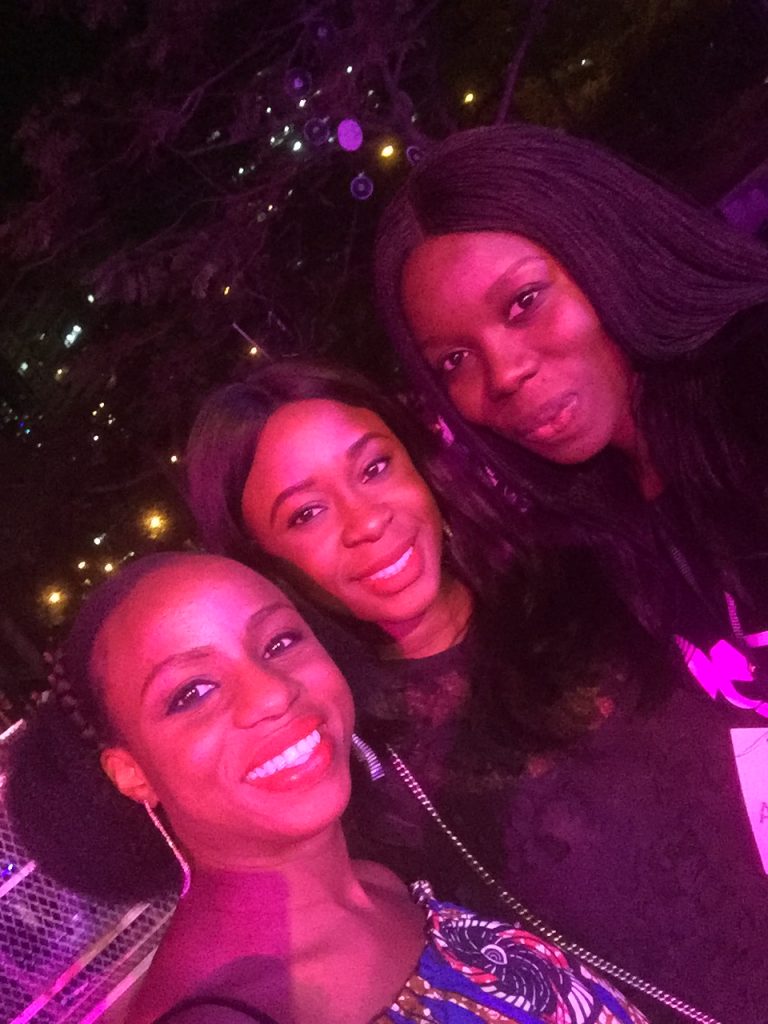 I also managed to attend 4 weddings within 10 days – peep my wedding uniform shoes, lol. They are sooo comfortable and great for dancing! You know I don't know how to sit still once there is music playing, so it is important to be in the right shoes for the job, lol.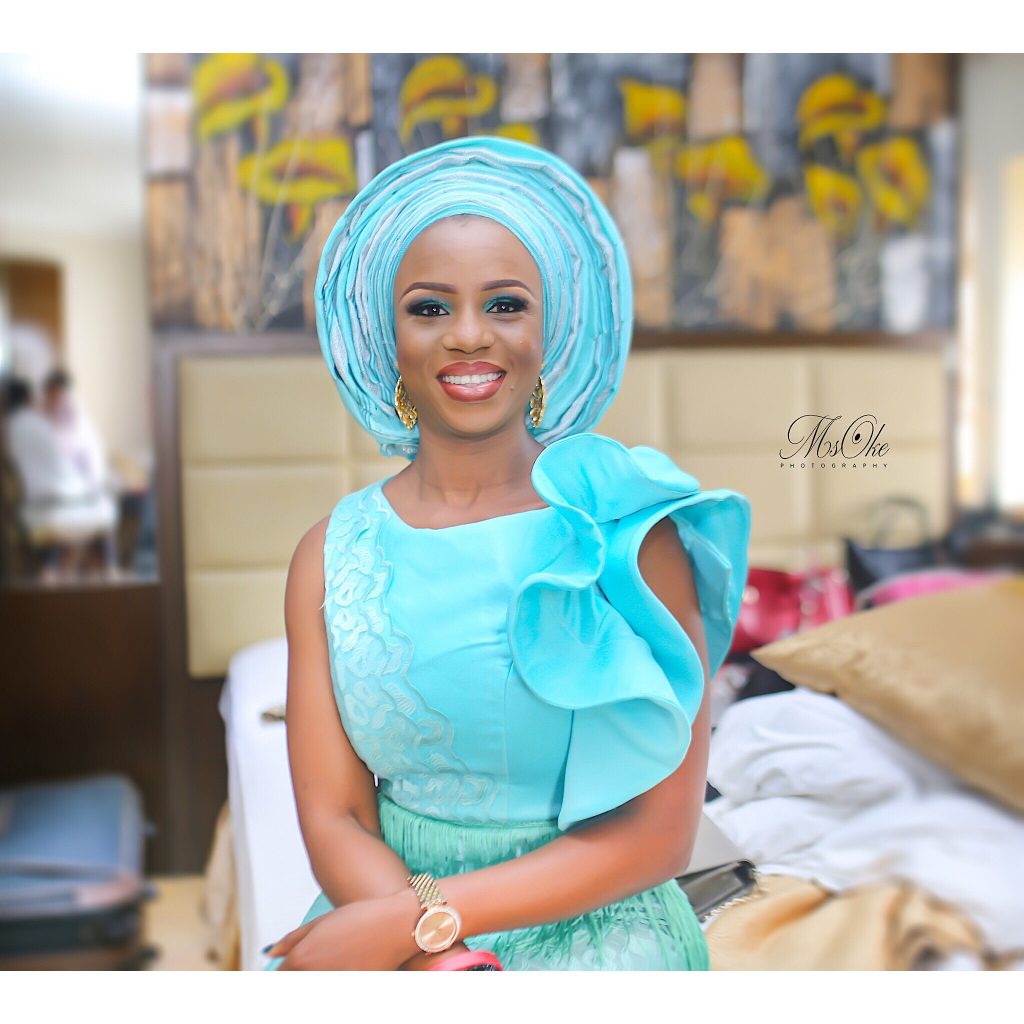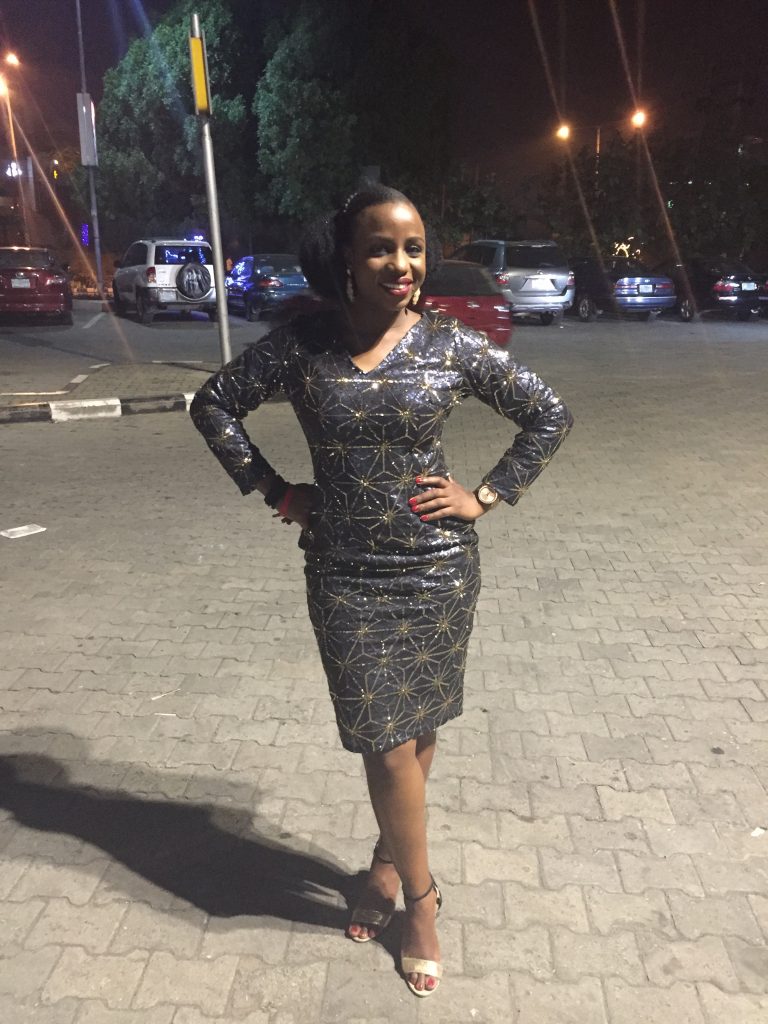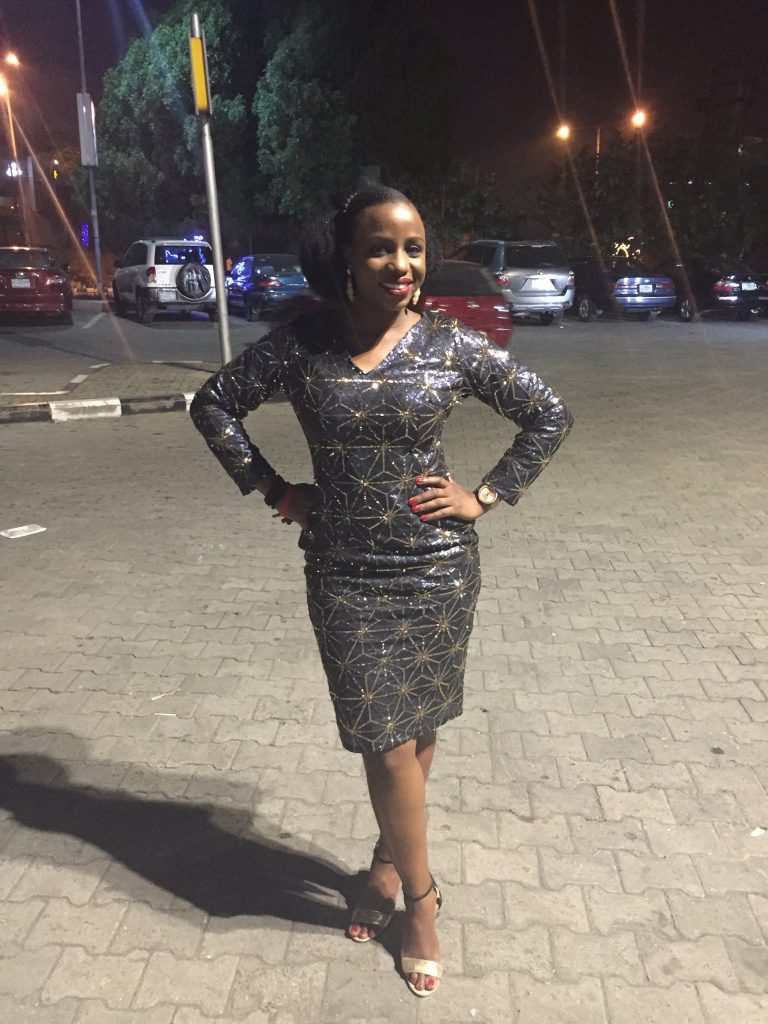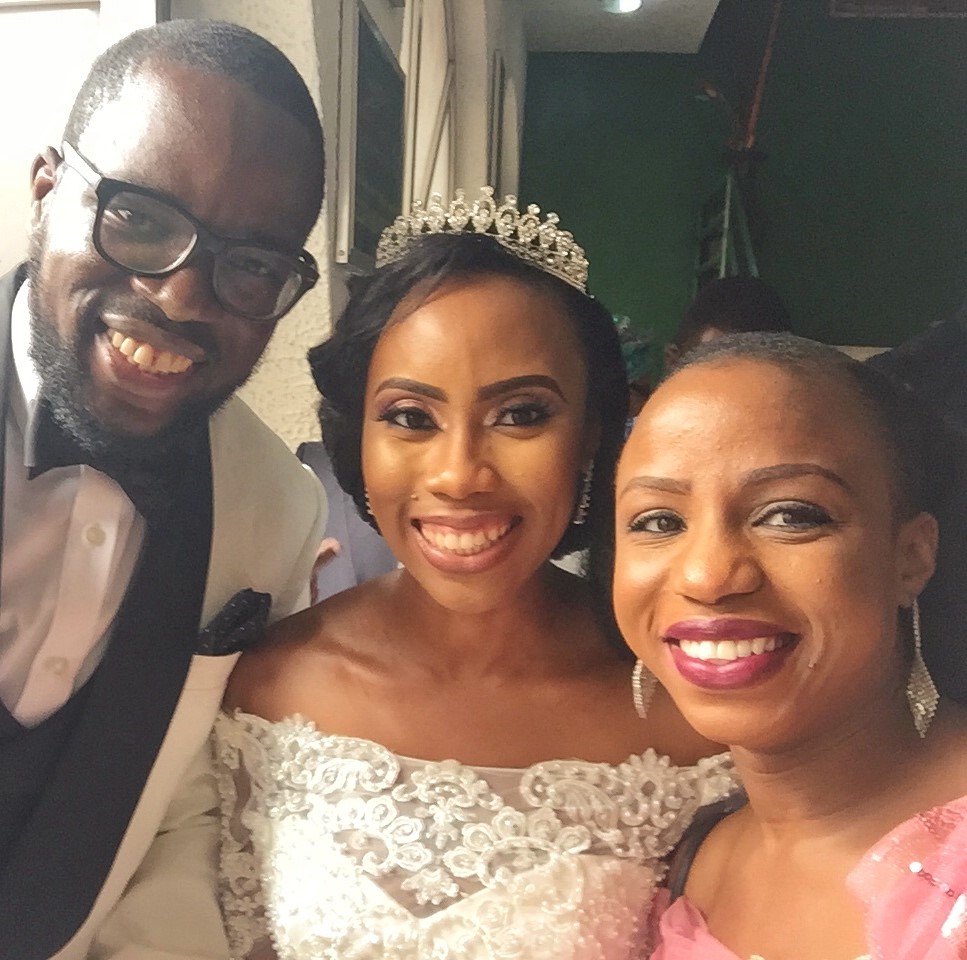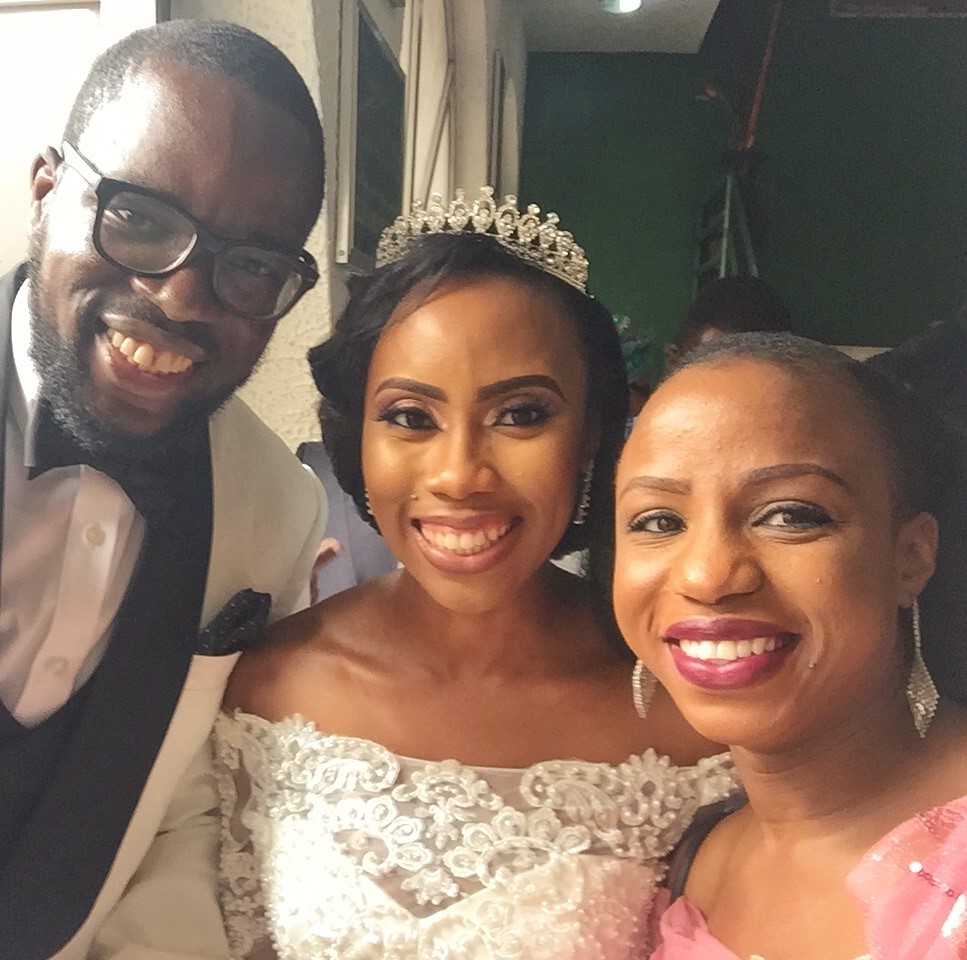 It wasn't all outings and outings o – I spent some time with family as well, made out time to meet up with some friends (older and younger), started building my vision board, carved out time to review my 2017 goals, wrote my thanksgiving letter for 2017 and then started setting goals for 2018. Some of my 2018 goals are pretty exciting – take professional swimming classes, take professional heels dancing classes, write for more blogs, revamp this website, speak daily affirmations over myself, kick off my modelling/brand ambassador career, and so much more!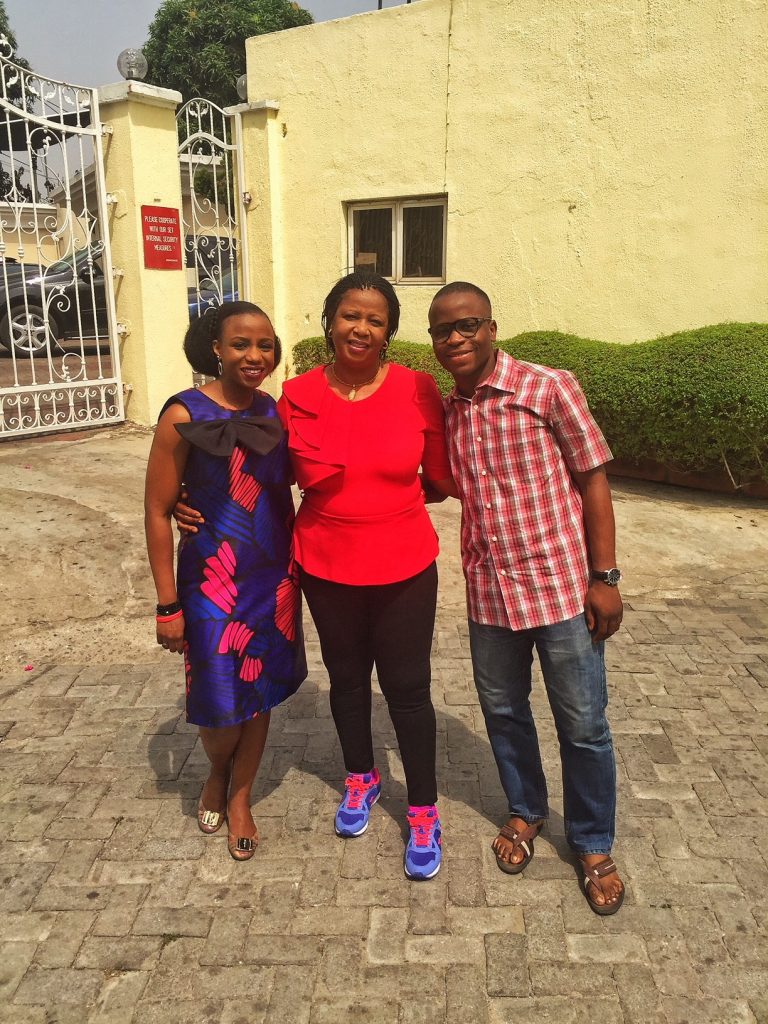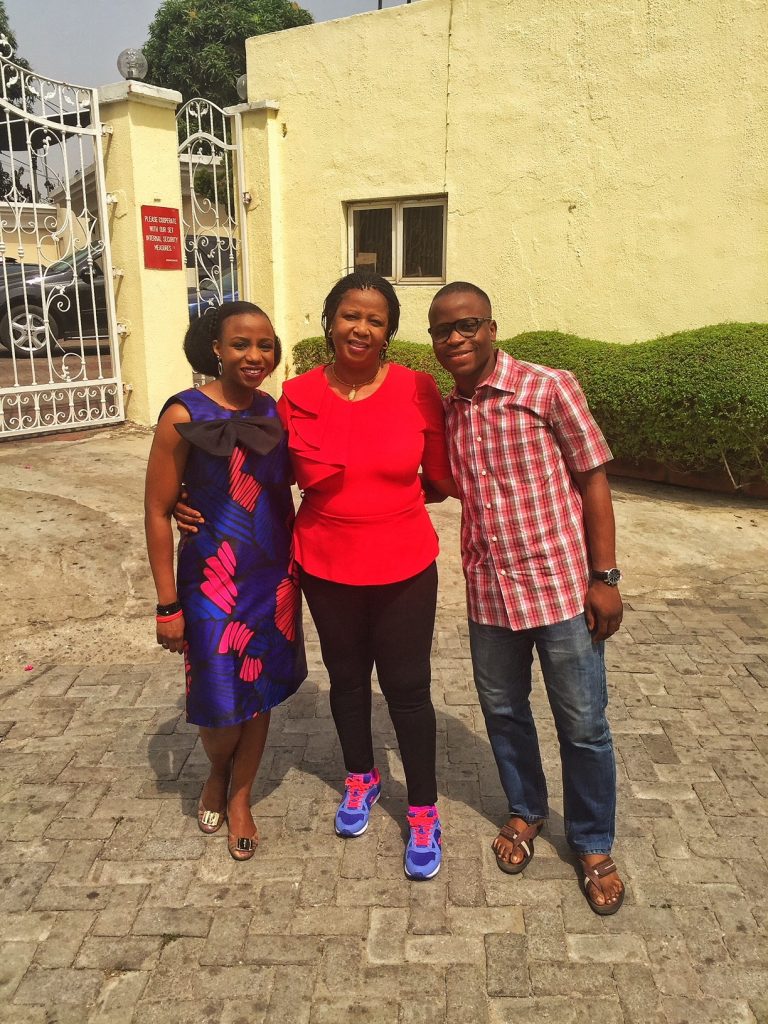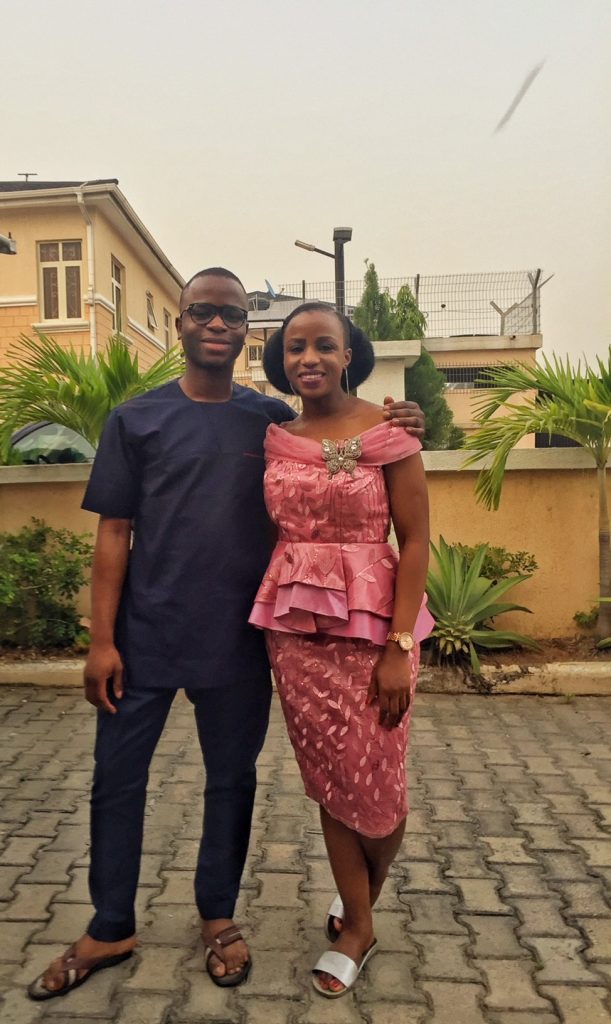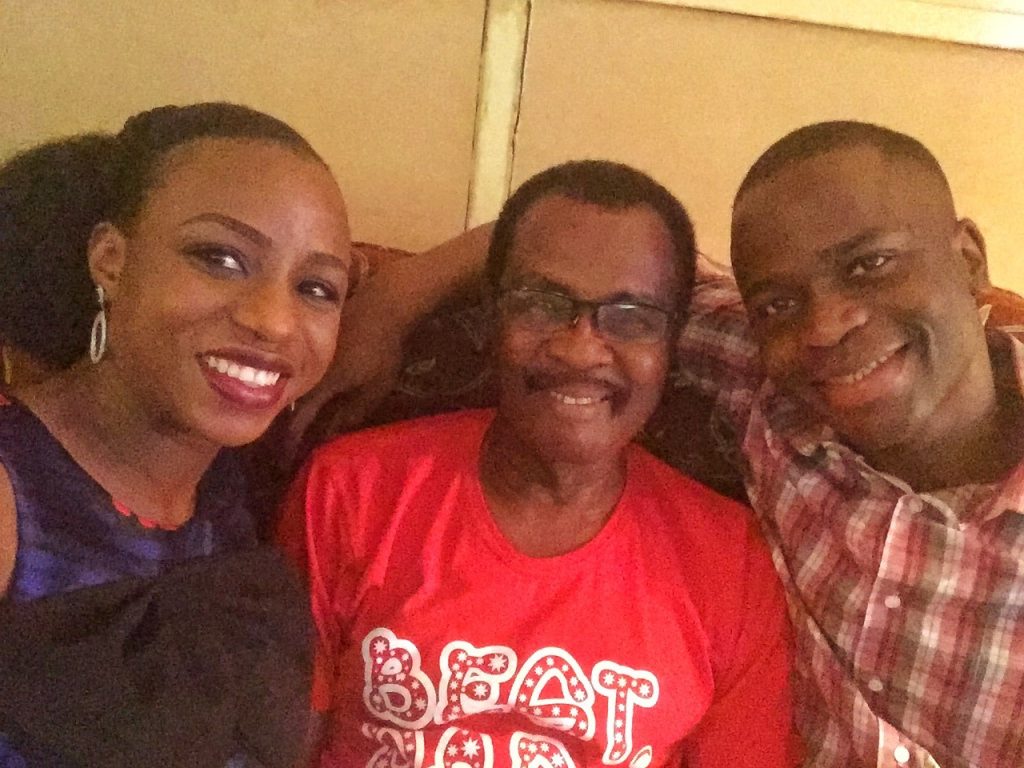 To be honest, I am yet to complete both my vision board and 2018 goals because I haven't fully downloaded all that God is saying for 2018. Now that all the activities have calmed down, I am spending time in prayers and meditation for the next couple of weeks to ensure that my agenda is a 100% reflection of God's agenda for my life. I don't have time to be chasing shadows and expending energy on the things that are not in God's plan for my life abeg!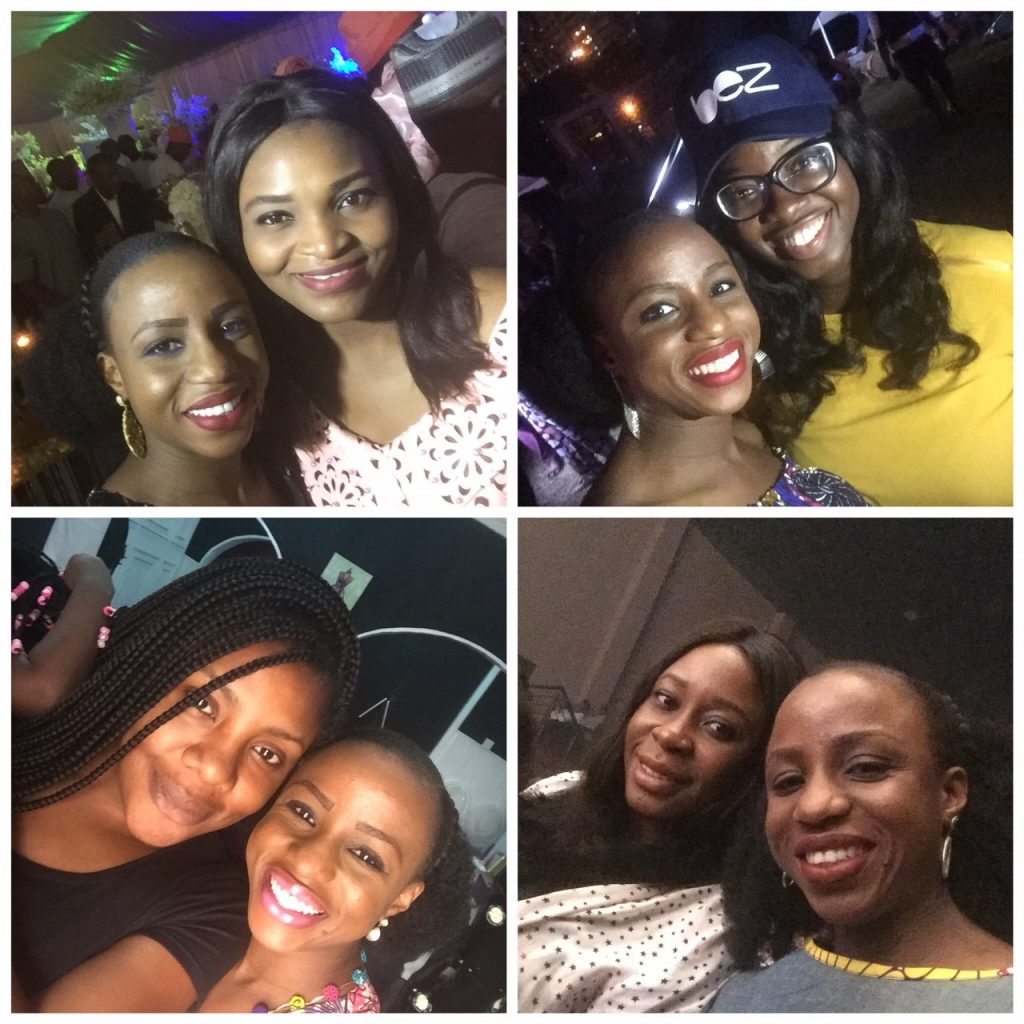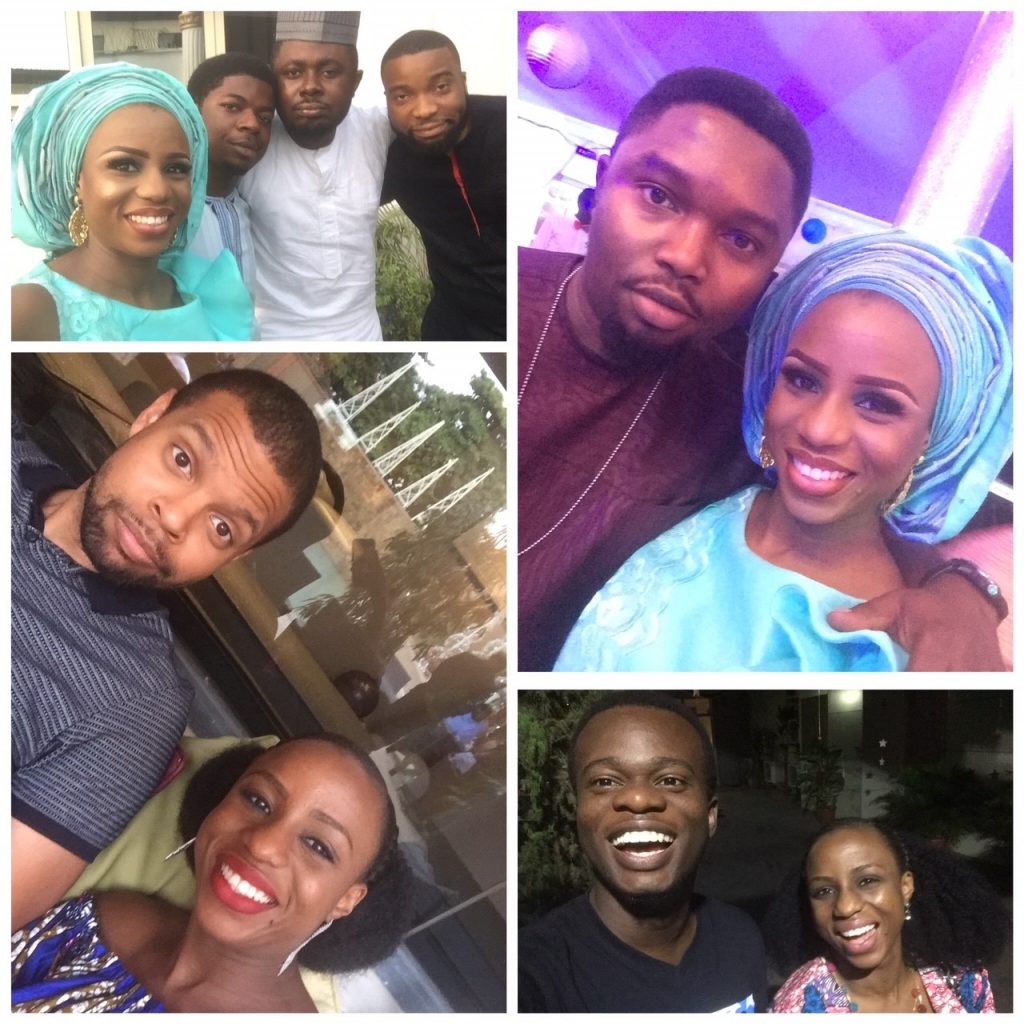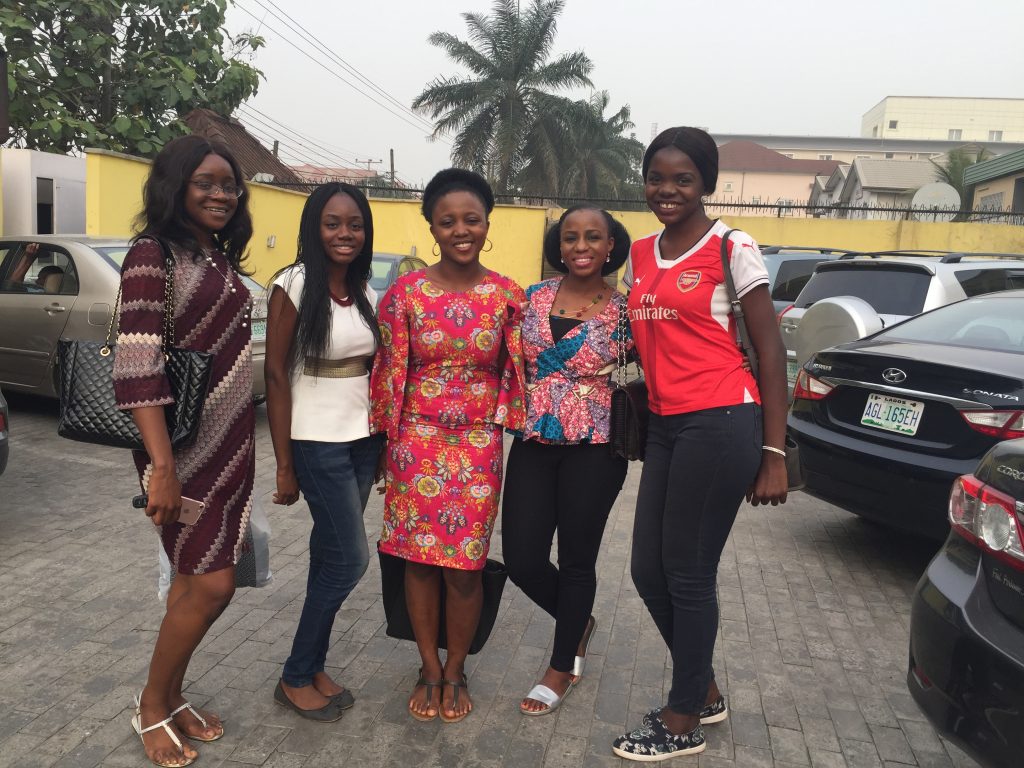 Now, the biggest highlight of my holiday was actually not all of the activities listed above (even though I thoroughly enjoyed myself), it was the Christmas giveaway (#kemischristmasgiveaway) that truly rocked my boat in December. WOW! That was an experience and a half! I will write a separate blogpost on the lessons from the giveaway but I think it is important to say a HUGE THANK YOU to everyone who participated. It would have been impossible without you all – thank you so much!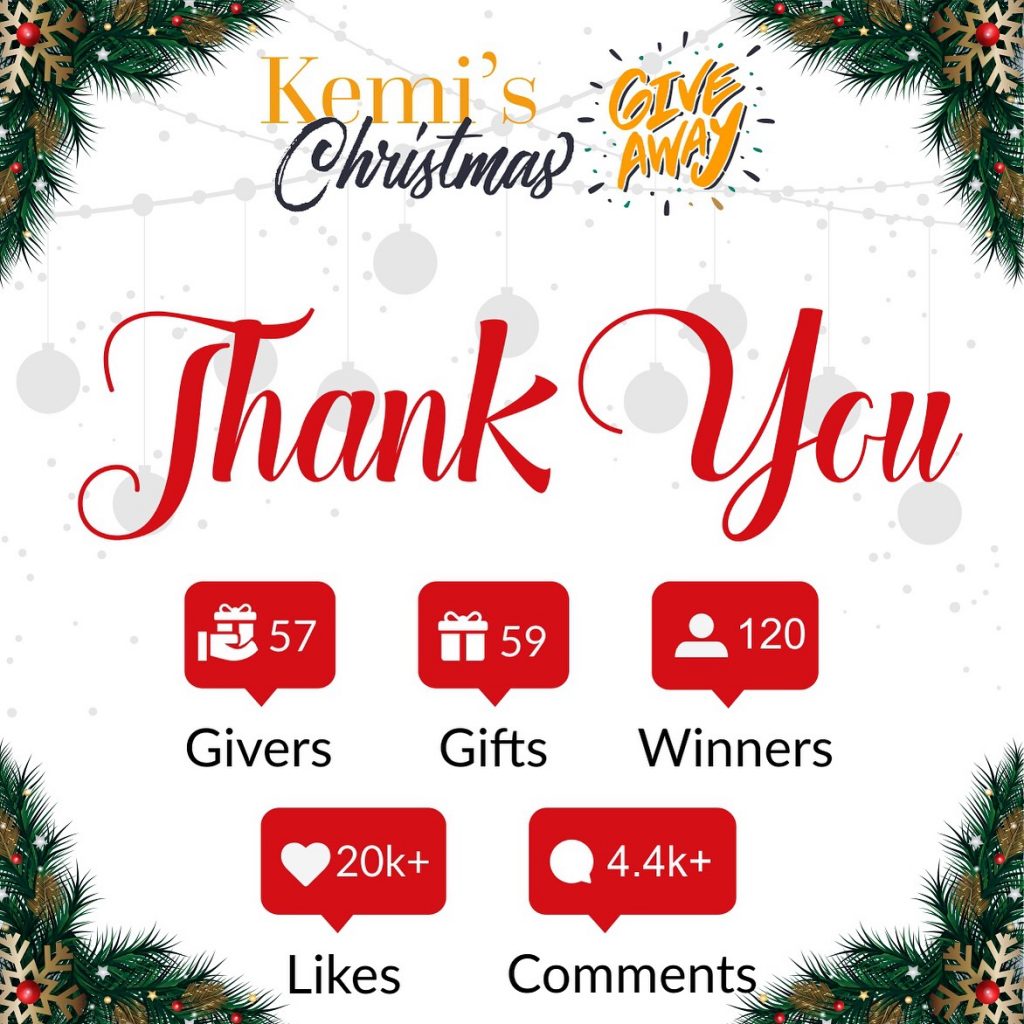 Remember in my last post, I said I was hoping to get 24/25 gifts so that I could give stuff out daily till the 25th of December? Well, we got MUCH MORE than 25 gifts! We ended up with 59 gifts in total!!!!! Am I hearing your WOW? Looool.  I am still saying WOW too!!! 59 gifts meant I had to give out multiple gifts every day and by the last day, we had a total of 120 winners!!!! WOOOOOOOOOOOOOOOOOOOOW!!!!
It was truly a December to remember and I am thankful for all my experiences during the period. Now it's time to go back to work to have some more impact and make money to fund the next holiday. Amen!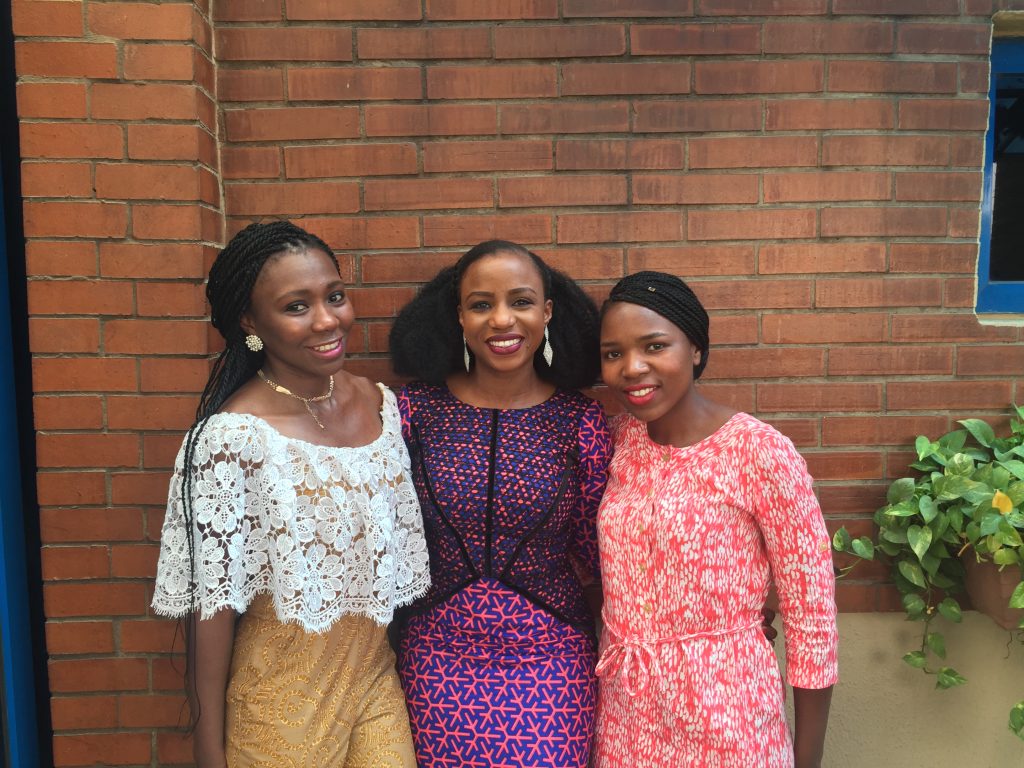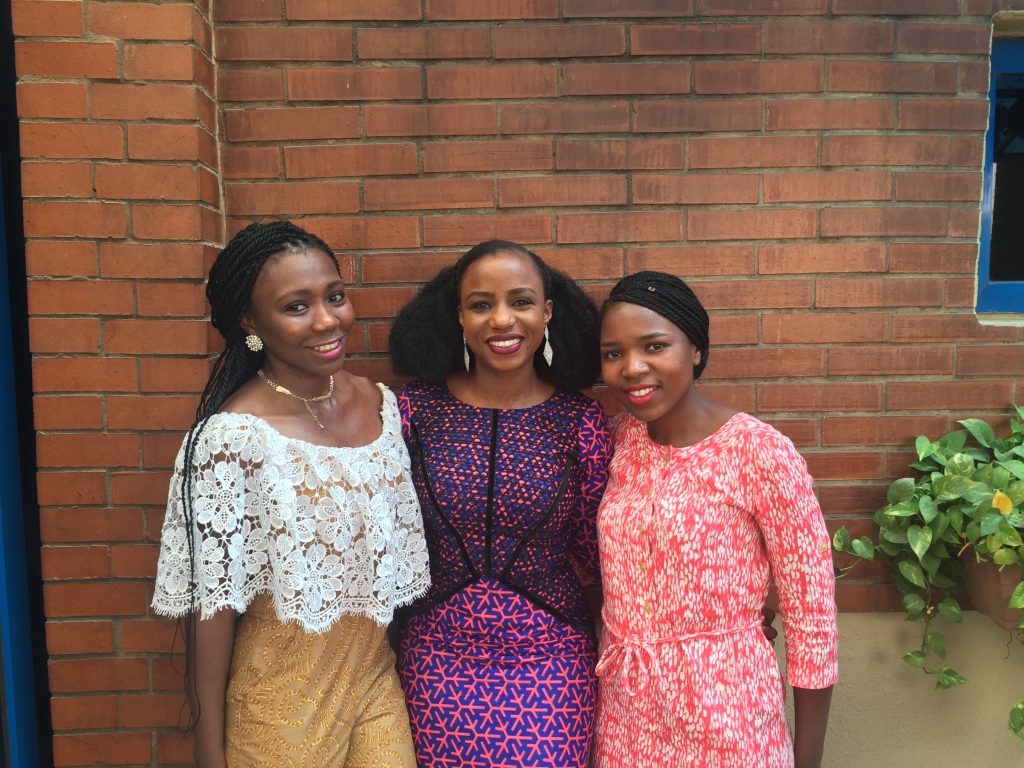 Have an amazing year people! Set (and smash) scary goals, connect with loved ones, forgive ya haters (I hear they are actually confused fans, lol), laugh at yourself, talk to God every day and live your best life. 2018 WAS AN AMAZING YEAR (yup, I have declared it and it is happening already!)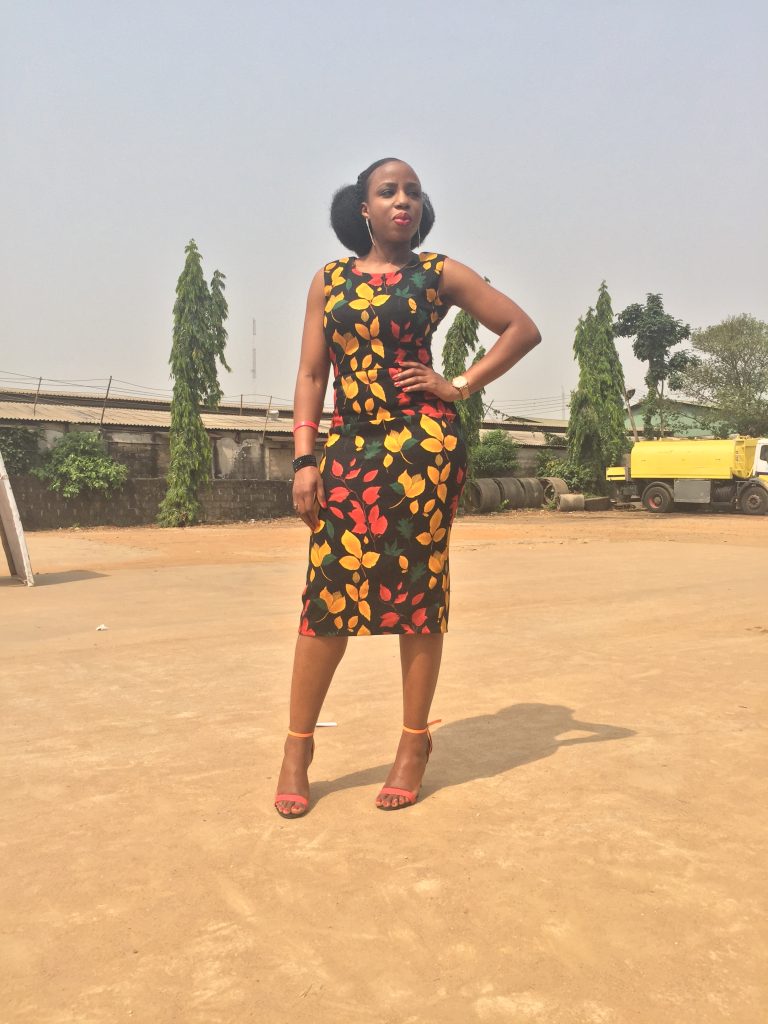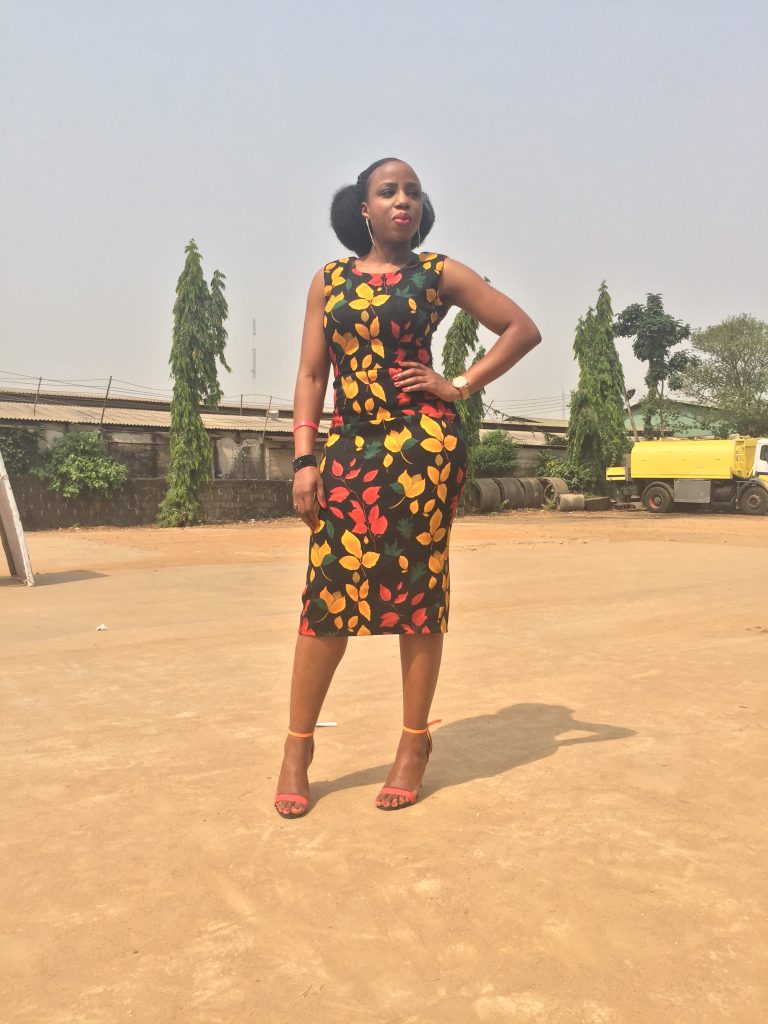 Joy-filled hugs,
Kemi
p.s – What are you saying about your 2018?
p.p.s – Please vote for my friend Yejide Runsewe (just search for her name on the site) to win an all-expense trip to India. Vote here: http://season5.keralablogexpress.com/index.php/user/single_participant/65823
p.p.p.s – I am still waiting for the answer to the 'why is suya only sold at night' question– I am genuinely curious.
(Visited 449 times, 1 visits today)